Massachusetts Charter School Cleaners Go Green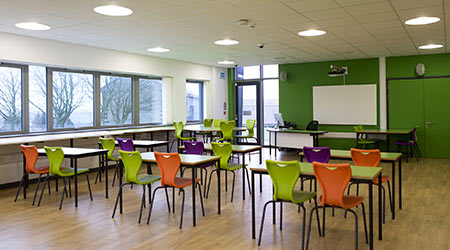 The cleaning crew at a Newburyport, Massachusetts, charter school has replacied its harsh chemical cleaning products with saltwater solutions, according to an article from the Newburyport News.

River Valley Charter School has become the first public charter school in the Merrimack Valley and North Shore areas to replace chemical cleaners with natural, green products. The school replaced its combination of mainstream cleaners with products that use a mixture of salt, water and vinegar. The cleaner has a two-week shelf life after it's mixed before it becomes less effective. The liquid is by combining the salt and and mixing it with the water.

School officials said River Valley has always used products with intense chemicals. But the presence of some students with food allergies prompted the switch.

"If you look at what's in some of these products, it's quite toxic," said school director Andrew Willemsen. "It's effective but we wanted to find something that would keep the kids safe and at the same time get the place clean."

River Valley students eat at their desks so students with allergies to specific foods, such as nuts, might have a greater chance of exposure, than those who may eat in a "nut free" area of a cafeteria.

"For kids with life-threatening food allergies, these cleaning products weren't cutting away all of the particles," Willemsen said.

School officials said a substantial amount of cleaner is used in classrooms, which can become costly. Desks and tables are wiped down once before lunch and once after students finish eating.

Custodians use the new products to clean nearly everything, including desks, hallways, floors and bathrooms.

There are other options for those looking to promote healthy cleaning in schools. Green Clean Strategies For Healthy Schools is a free tutorial on some of the green cleaning changes schools have made. And Promoting Green Cleaning In Schools breaks down the tools cleaning workers need to make the change.
Disclaimer: Please note that Facebook comments are posted through Facebook and cannot be approved, edited or declined by CleanLink.com. The opinions expressed in Facebook comments do not necessarily reflect those of CleanLink.com or its staff. To find out more about Facebook commenting please read the Conversation Guidelines.