List Outlines 50 Cities With Mosquito Problems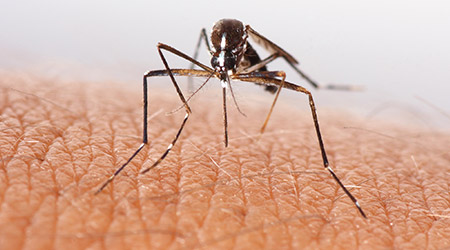 The Atlanta area tops pest control leader Orkin's list of Top 50 Mosquito Cities for the fourth year in a row. Atlanta is followed on the list by Washington, DC and Chicago. Twenty-one metro areas in the Southeast are included in the ranking, which is the most of any region in the United States.

"Mosquitoes are a public health threat," said Orkin entomologist, Mark Beavers, Ph.D. "Zika virus is currently one of the most notable illnesses that can be spread by mosquitoes, and it will likely be a problem again this year, especially in areas where the type of mosquito that can carry the virus thrives," added Beavers, who recently participated in the Center for Disease Control and Prevention's (CDC) 2017 Aedes Vector Control Summit, a forum dedicated to improving mosquito control methods and reducing the risk of diseases such as Zika.

Mosquitoes are an issue across the U.S. and become more active as temperatures rise, with mosquito season often ranging from April to October.

Orkin's Top 50 Mosquito Cities list ranks metro areas by the number of mosquito customers served from April 1, 2016 to March 31, 2017. The list includes both residential and commercial treatments.

1. Atlanta
2. Washington, D.C. (+1)
3. Chicago (-1)
4. New York (+1)
5. Miami-Ft. Lauderdale, Fla. (+8)
6. Dallas-Ft. Worth, Texas
7. Houston (+5)
8. Detroit (-4)
9. Charlotte, N.C. (-1)
10. Nashville, Tenn. (-3)
11. Tampa-St. Petersburg, Fla. (+11)
12. Orlando-Daytona Beach-Melbourne, Fla. (+11)
13. Norfolk-Portsmouth-Newport News, Va. (+1)
14. Memphis, Tenn. (-3)
15. Mobile-Pensacola, Fla. (+11)
16. West Palm Beach-Ft. Pierce, Fla. (+15)
17. Raleigh-Durham, N.C. (-8)
18. Grand Rapids-Kalamazoo-Battle Creek, Mich. (-3)
19. Boston (-9)
20. Phoenix, Ariz.
21. Philadelphia (+9)
22. Greenville-Spartanburg, S.C., Asheville, N.C (-6)
23. Richmond-Petersburg, Va. (-2)
24. Kansas City, Mo. (+25)
25. Cleveland-Akron-Canton, Ohio (-7)
26. St. Louis, Mo.
27. New Orleans, La. (+16)
28. Baltimore, Md. (+9)
29. Los Angeles
30. Minneapolis-St. Paul, Minn. (-11)
31. Hartford-New Haven, Conn. (-8)
32. Lafayette, La. (+12)
33. Knoxville, Tenn. (+1)
34. Albany-Schenectady-Troy, N.Y. (-17)
35. Indianapolis, Ind. (-8)
36. Birmingham, Ala. (+11)
37. Austin, Texas (+11)
38. Cincinnati, Ohio (+7)
39. San Antonio, Texas
40. Baton Rouge, La.
41. Charleston, S.C. (-16)
42. Shreveport, La.
43. Columbia, S.C.
44. Columbus, Ohio (-12)
45. Bangor, Maine (-16)
46. Flint-Saginaw-Bay City, Mich. (-18)
47. Greensboro-High Pt.-Winston-Salem, N.C. (-9)
48. Myrtle Beach-Florence, S.C. (-2)
49. Tulsa, Okla. (-13)
50. Little Rock-Pine Bluff, Ark.

Despite the emergence of Zika virus in recent years, many Americans remain unconcerned. A recent Gallup poll found that 90 percent of Americans believe they are unlikely to contract Zika virus, but the CDC has confirmed more than 5,000 cases in the United States since January 2015, with more than 220 transmitted in the U.S.

One of the best strategies for eliminating Zika virus in the U.S. is to reduce populations of the Aedes aegypti mosquito that can carry and spread it. The Aedes aegypti (commonly called the yellow fever mosquito) mosquito has been found in more than 20 states from coast to coast. Unlike other mosquito species, Aedes aegypti mosquitoes bite during the day and night.

"There is no treatment, cure or vaccine for Zika virus, so the primary protection is avoiding mosquito bites," said Beavers, adding that, "Zika virus isn't the only serious illness that mosquitoes can spread, as they are known transmitters of West Nile virus, chikungunya virus, dengue and malaria."

Reducing items that attract mosquitoes and actively working to prevent them from reproducing and moving inside the home are the best protection from mosquito bites.

"Female mosquitoes are attracted to a multitude of things, but the three major ones are carbon dioxide and heat when they are trying to find a blood source and moisture, usually in the form of standing water so they can lay their eggs" said Beavers.

Orkin recommends the following tips to help residents protect against mosquitoes:

Eliminate Mosquito-Friendly Conditions
• Remove standing water buckets, toys and other containers, as mosquitoes can breed in just an inch of standing water.
• Change water weekly in bird baths, fountains, potted plants and any containers that hold standing water.
• Keep pool water treated and circulating.
• Regularly clean gutters so water doesn't pool.
• Trim shrubbery, as adult mosquitoes like to rest in dark areas with high humidity, such as under the leaves of lush vegetation.

Prevent Mosquitoes from Biting
• Wear loose-fitting, long-sleeved shirts and long pants. Mosquitoes can bite through tight clothing.
• Apply an EPA-registered mosquito repellent containing products such as DEET, picaridin or IR3535.

Eliminate Entry Points
• Repair and use window and door screens to help prevent entry.
• Close gaps around windows and doors to prevent mosquitoes from getting inside.
Disclaimer: Please note that Facebook comments are posted through Facebook and cannot be approved, edited or declined by CleanLink.com. The opinions expressed in Facebook comments do not necessarily reflect those of CleanLink.com or its staff. To find out more about Facebook commenting please read the Conversation Guidelines.