Karl Rove, Jim Messina Join ISSA Keynote Line Up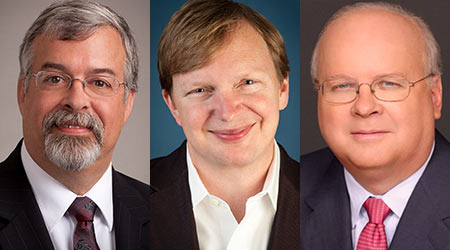 U.S. politics, the economy, and their impact on jan/san distributors and commercial cleaning businesses will be a highlight of ISSA's annual conference and trade show this fall when the political minds Karl Rove, Jim Messina and Brian Beaulieu sit down for a discussion on the State of the Economy: The Trump Effect.

The ISSA/INTERCLEAN North America 2017 Trade Show and ISSA Convention is being held in Las Vegas in September, and the State of the Economy panelists will participate in an hour-long discussion that starts at 9:00 a.m. on Thursday, September 14.

According to the ISSA announcement, no matter what side of the aisle you identify with, the presidential race of 2016 and the election of President Donald Trump have had a ripple effect on the domestic and international economy. ISSA has brought these economists, political experts, and visionary leaders to discuss the trends and ever-changing landscape of the economy.

"The expert panelists are guaranteed to provide a lively, insightful, thought-provoking—and possibly controversial—discussion" says Cleaning Management Institute Training Development Specialist Lucas Wendt. "I can't imagine finding a more qualified group of political minds to participate in this panel than these four gentlemen. Their unmatched experience, knowledge, and passion for political affairs will drive this discussion."

Karl Rove served former U.S. President George W. Bush from 2000-07 as a senior advisor and as U.S. deputy chief of staff from 2004-07. Rove filled a wide variety of roles for the former president, including overseeing the offices of Strategic Initiatives, Political Affairs, Public Liaison, and Intergovernmental Affairs. Largely considered one of the best political minds of this time, he appears on several television shows and writes a weekly op-ed for the Wall Street Journal. He is also the author of two books, The Triumph of William McKinley: Why the Election of 1886 Still Matters and the New York Times best seller Courage and Consequence.

Jim Messina ran a successful re-election campaign for former U.S. President Barack Obama in 2012, and received the Campaign Strategist of the Year Award from The American Association of Political Consultants for his efforts and unprecedented integration of technology into his strategy. Before his role as U.S. deputy chief of staff to Obama, 2009-11, he served as chief of staff to U.S. senators Max Baucus and Byron Dorgan and U.S. Representative Carolyn McCarthy. In 2013, he founded the Messina Group, a firm that provides strategic consulting to businesses, advocacy groups, and political campaigns. He also currently serves on various technology companies' board of directors and advisory boards, including Google's Advanced Technologies.

Author and consultant Brian Beaulieu rounds out the panel, sharing his domestic and global perspectives on how to forecast, plan, and increase profits based on business cycle trend analysis. Beaulieu has been delivering seminars and workshops to business owners and executives for 35 years, and has been a contributor to Forbes, the New York Times, and the Wall Street Journal. His three books are: Prosperity in the Age of Decline, Make Your Move, and But I Want It.

Panel moderator Frank Luntz has served as a news-analyst for CBS for the past four-years, specializing in corporate crisis communications and politics. He also frequents MSNBC, and his reoccurring segment "100 Days, 1000 Voices" received an Emmy in 2001. Named one of Time magazine's most promising leaders under 40, he finished 87th in Time's list of the most influential people in the world and was named one of the top four research minds by Business Week.

Rove, Messina and Beaulieu join an impressive line up of dynamic and iconic personalities who will the grace the ISSA Keynote Stage. Professional Football Hall of Fame Inductee and Super Bowl Champion Troy Aikman speaks on Wednesday September 13, and TV personality, talk-show host and confessed germaphobe Howie Mandel speaks on Thursday, September 14. To learn more about the ISSA State of the Economy panelists, visit www.issa.com/keynote.
Disclaimer: Please note that Facebook comments are posted through Facebook and cannot be approved, edited or declined by CleanLink.com. The opinions expressed in Facebook comments do not necessarily reflect those of CleanLink.com or its staff. To find out more about Facebook commenting please read the Conversation Guidelines.