Joint Commission Will Now Cite Individual Hand-Hygiene Failures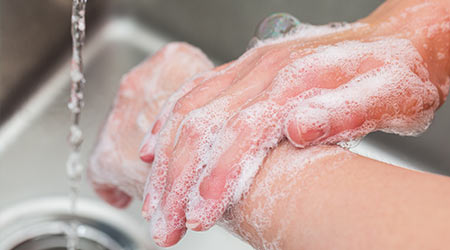 Beginning Jan. 1, 2018, any observation by surveyors of an individual failure to perform hand hygiene in the process of direct patient care will be cited as a deficiency resulting in a Requirement for Improvement (RFI) under the Infection Prevention and Control chapter for all accreditation programs, according to a statement on the Joint Commission website.

Hand hygiene is widely considered to be the most important intervention for preventing hospital-acquired infections (HAI). Surveyors also will continue surveying an organization's hand hygiene program to National Patient Safety Goal (NPSG) 07.01.01.

The Joint Commission introduced this NPSG in 2004. It requires healthcare facilities to:
• Implement a hand hygiene program
• Set goals for improving compliance with the program
• Monitor the success of those plans
• Improve the results through appropriate actions

Surveyors generally issue an RFI to organizations for failure to implement and make progress in their hand-hygiene improvement programs.

With the exception of the Home Care and Ambulatory Care Accreditation programs, observations of individual failure to perform hand hygiene were not previously cited if there was otherwise a progressive program of increased compliance.

According to an article on the Health Exec website, a 2016 analysis by Consumer Reports gave low scores on HAI prevention to some of the nation's most prominent academic healthcare facilities.

Consumer Reports found that some previously low-performing facilities saw a drop in hospital-acquired infection rates by focusing on hand washing, installing additional soap and alcohol gel dispensers and secretly monitoring hand-hygiene behavior.