John P. Walker Professional Development Center for Cleaning Operations Opens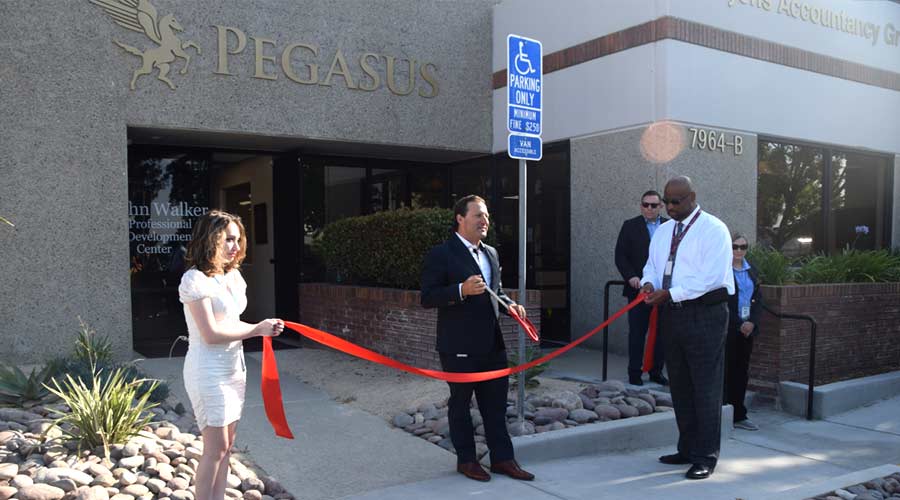 Pegasus Building Services announced the opening of its new custodial training facility, the John P. Walker Professional Development Center for Cleaning Operations. In a ceremony attended by more than 50 custodial professionals from across the U.S. and several Pegasus senior executives, Renae Walker cut the ribbon to officially open the building named in her late husband's honor.
"Thirty years ago, John Walker brought the (OS1) Cleaning System and Janitor University Programs to life," says Walker. "This state-of-the-art building is a realization of his dream, and it showcases his belief that through effective training, we can further elevate custodial workers' voice, role and professionalism."
Located adjacent the Pegasus corporate headquarters, the 5,000-square-foot facility will serve as the new home for Janitor University custodial training events. The building also includes the cleaning industry's most extensive library on custodial training in the U.S., and a media production center for the development new training content.
"John was constantly asking, 'Wouldn't it be cool if…'," says Ben Walker, senior director of field training and development, Pegasus. "There's so much about the custodial industry that has changed in the past 30 years, but so much has stayed the same. This building will allow us to continue building premium educational content and materials for the custodial industry, building upon John's legacy."
In addition to onsite Janitor University training, Pegasus will host a series of events throughout the U.S. beginning in Fall 2023.
"We're seeing an unprecedented demand for qualified, systematic cleaning approaches resulting from the pandemic," says Jeff Becker, CEO of Pegasus. "The (OS1) System has repeatedly proven to be the most scalable, measurable cleaning system available. We're excited for this new training facility, which will better enable us to train teams and ultimately transform how buildings are cleaned."