Janitorial Firms Could Lose Immigrant Work Force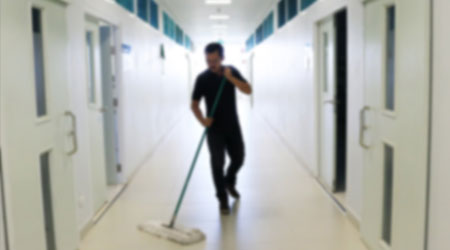 Hundreds of thousands of immigrants from Haiti and Central America may lose their temporary protected status (TPS) to live in the United States, meaning a range of businesses could lose employees who can't easily be replaced.

The White House recently announced that about 200,000 immigrants from El Salvador would have to leave by September 2019 or face deportation, according to an article on The New York Times website.

Those who stay here illegally will lose their work permits. More than a million people could be gone from the legal work force in a matter of months.

"If you get rid of 26 percent of my employees, I guess I'm going to have to terminate some of the contracts," Victor Moran, the chief executive of Total Quality, a janitorial services company in the Washington, D.C., area, said in the article.

The company employs 228 people with temporary protected status, most from El Salvador. The temporary permissions were originally granted because of wars and natural disasters in the immigrants' home countries and intended to last only until conditions improved.

But their status has been extended so long that they have become indefinite residents, often buying homes and raising American-born children, the article said.

Many of these workers have taken jobs that some employers say no one else will. Others say the companies could attract Americans if they were willing to pay more.

"TPS does not exist for the convenience of industries that rely on low-wage foreign labor," Ira Mehlman, a spokesman for the Federation for American Immigration Reform, said in the article.

The companies create "self-fulfilling prophecies" by offering little pay and grueling conditions, he said: "When Americans reject the wages and working conditions they offer, they then argue that Americans are unwilling to take the jobs."

According to the article, Moran is a Trump voter who said he supported the president's overall approach to immigration and won't hire unauthorized immigrants. Moran said he believes such hiring practices leave those workers more vulnerable to wage abuse and poor treatment.

Read the whole article here.
Disclaimer: Please note that Facebook comments are posted through Facebook and cannot be approved, edited or declined by CleanLink.com. The opinions expressed in Facebook comments do not necessarily reflect those of CleanLink.com or its staff. To find out more about Facebook commenting please read the Conversation Guidelines.