Infection Preventionists Urge Public To Wear Masks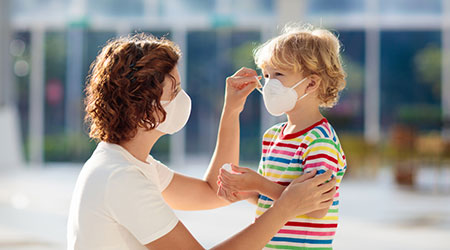 The Association for Professionals in Infection Control and Epidemiology (APIC) urges Americans to wear masks and to take other health precautions such as social distancing to slow the spread of COVID-19.
Recent studies suggest that universal mask wearing by the public could save as many as 130,000 American lives. The Centers for Disease Control and Prevention (CDC) now states that wearing a mask benefits the wearer as well as those nearby by blocking the spread of infectious droplets created when people breathe, speak, cough and sneeze.
"Universal use of masks in public, in accordance with CDC guidelines, is the most effective step we can take to protect ourselves and one another from COVID-19. As an organization of infection preventionists dedicated to stopping the spread of infection, we urge every American to adopt this simple measure to protect their health and the health of those around them," said APIC 2020 President Connie Steed.
In recent days, the United States has seen its greatest surges in new daily coronavirus cases yet since the pandemic began in early 2020. Hospital beds are filling up around the country with many communities re-enacting restrictions on businesses and large gatherings to curb spread of the virus. Masks are especially important in enclosed spaces and should be worn in all public settings , according to CDC.
"We are all tired of this pandemic, and the holidays are upon us, but we cannot let our guard down against this deadly virus as we approach the winter months," Steed continued. "While news of a vaccine is welcome, we must continue masking and social distancing until broad distribution of the vaccine becomes a reality. With cases rising, and many hospitals at or nearly at capacity, we all must do what we can to prevent the spread of COVID-19. Wear a mask when you're outside your home, stay six feet from others, wash your hands, don't touch your face, and stay home if you feel sick. By following these simple measures, we can fight this pandemic together, so we can all get back to normal."
Disclaimer: Please note that Facebook comments are posted through Facebook and cannot be approved, edited or declined by CleanLink.com. The opinions expressed in Facebook comments do not necessarily reflect those of CleanLink.com or its staff. To find out more about Facebook commenting please read the Conversation Guidelines.
---