IWLA Recognizes Innovative Warehouse Provider Partners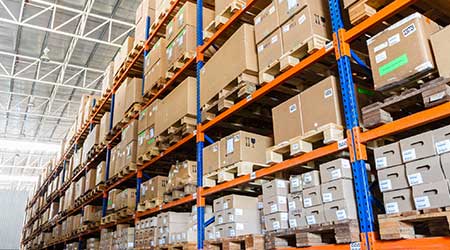 IWLA, the resource for warehouse logistics, congratulates Nulogy, Southeast Solutions, and Zethcon, winners of the 2017 IWLA Innovation Contest. Attendees at the International Warehouse Logistics Association Convention & Expo in Palm Springs, Calif., chose the companies as 2017 winners. Company representatives received the awards during the March 21 "Starry Desert Night" Chairman's Dinner & Reception.

IWLA convention attendees, owners and operators of North America's third-party warehouse logistics companies, voted for the winners among 60 exhibitors. IWLA members store, handle materials, and fulfill for shippers and retailers of all kinds. Their warehouses are innovative and require innovative products to deliver for customers.

Attendees cited Nulogy's PackManager as the most Innovative Product. PackManager is the only dedicated solution to manage the complexities of last-mile product customization. Nulogy's SaaS solutions allow 3PLs to automate and improve Value Added Service (VAS) processes, and have proven to enhance supply chain performance and growth. Nulogy's established integrations capabilities enable customers to unify PackManager with existing accounting, WMS, and ERP systems. This gives supply chain partners the agility required to reduce complexity, and achieve drastic reductions in administrative overhead. Suppliers who use PackManager can also interface their data directly with their CPG customers' systems to exchange real-time operational data.

Two companies tied for the Most Innovative Service.

Zethcon's implementation and support team has a high level of 3PL-industry knowledge. The group is recognized as 3PL-industry experts by several associations, including the IWLA. Having a partner vendor that employs individuals who have been in the customer's operational situation and have "walked in those shoes" is invaluable. "We have achieved an exceptional level of customer satisfaction," says Zethcon CEO Chris Oechsel. "And we sustain this year after year. When your customers continue to rave about what you do, that's innovative."

Southeast Solutions Inc. is a growing auto ID systems integrator and value added reseller (VAR) with a focus on traditional barcode technology, RFID technology, process improvement, equipment sales and service, and custom software solutions. "At Southeast Solutions we strive to deliver value along with superior service to our customers with the necessary equipment, software, and an in-house service and repair facility," says the company's Brian Finnan (also a partner member on the IWLA Board). "From solution concept to the design, development and implementation, our experienced team can deliver traditional, mobile, and wireless solutions."

"The companies chosen this year reflect industry trends that emphasize software and technology for warehouse logistics companies to scale up and fulfill customer service needs," says IWLA Chairman Cliff Otto, CEO of Saddle Creek Logistic Services, based in Lakeland, Fla. Otto oversaw the 2017 event as chairman of the IWLA Convention Planning Committee.

The 2018 IWLA Innovation Contest is open to all convention exhibitors. Prizes will be awarded March 13 during the IWLA Convention & Expo in Tampa, Fla. Find out more at www.IWLA.com.
Disclaimer: Please note that Facebook comments are posted through Facebook and cannot be approved, edited or declined by CleanLink.com. The opinions expressed in Facebook comments do not necessarily reflect those of CleanLink.com or its staff. To find out more about Facebook commenting please read the Conversation Guidelines.
---