IEHA Continues Longstanding Co-location With ISSA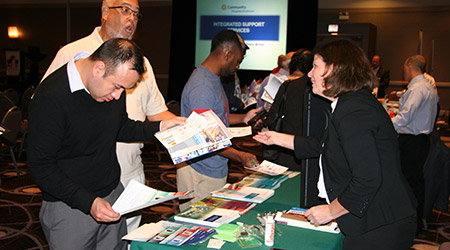 Bally's Las Vegas will be the site of the 51st IEHA Conference and Convention, which is co-located with ISSA/INTERCLEAN. Slated to run from Sept. 11 to 16, the event will provide those tasked with managing housekeeping and custodial departments with the latest in management techniques, product information and advice from industry leaders and vendors designed to help them achieve operational efficiencies and work more effectively with staff and personnel.

IEHA has always made education a top priority for its members and the Conference and Convention underscores this commitment with 13 hours of continuing education units (CEU).

Infection control is one of this year's hot topics. On Friday, Jack McGurk, president of Systems Improvement Initiators, Inc., will present the seminar "Fear the Floor —A Potential Contributor to Elevated HAI's" which will certainly prove valuable to anyone with clients in the healthcare/hospital arenas. Later on Saturday, Heidi Wilcox, owner and founder of ASE Services Green Cleaning and Infection Control Specialists, discusses how end users can better streamline their processes and partner with vendors and manufacturers to onboard the latest products and equipment. Roy Boukidjian, a current member of the Board of Directors for the National Certification Board, and Tanya Henry, principle of Iconic Oak Consulting, LLC will also address this topic during the conference.

Motivational speaker Felix Anderson will fire up the energy, creativity and imagination of those attending his Friday presentation. A brand advocate, speaker, author and service coach with over 20 years of customer service experience, Anderson turned his calling into a company—The Executive Concierges, which he founded and now serves as CEO. His seminar will challenge attendees to become the best versions of themselves.

Other important topics include disaster preparedness, leadership, employee engagement and bridging the gap between facility management and housekeeping. In between education sessions, attendees will have the opportunity to talk with product manufacturers at tabletop exhibits.

At Bally's, IEHA attendees can also participate in several Boot Camps, enjoy a Welcome Party, and attend breakfast meetings. Lunchtime also offers opportunities to learn and network via the four-hour Working Lunch/IEHA Afternoon Education Sessions as well as an Open Panel Luncheon. Other highlights include the IEHA Director-at-Large Meetings, vendor and IEHA educational events and the Business and Awards Sessions. The Conference and Convention concludes with the three-hour IEHA Farewell and President's Reception.

This year's show is also historic in that after 18 years as a co-location partner, IEHA has now merged with ISSA. With access to ISSA's resources, IEHA leadership anticipates membership growth and the ability to offer more education.

Pamela Mills-Senn is a freelancer based in Long Beach, California.