Hundreds Of Janitors Walk Off Job In Strike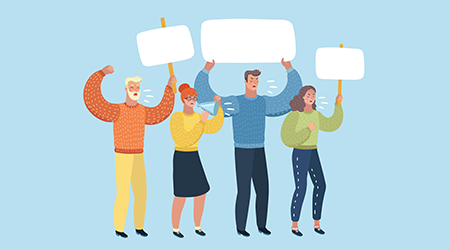 More than 700 hundred janitors working in San Francisco started a strike Wednesday in protest of low pay, worker's rights and a lack of protections. The protest was spread into two groups: One outside of the city's tallest building, the Salesforce Tower, and a second outside another large building.
According to NBC Bay Area, the janitors were assisted in protest by Service Employees International Union (SEIU) Local 87. The union told media that the protest was in demand of a new labor deal that would give the janitors better pay and seniority rights. The janitors also asked that a new contract ensure that ventilation systems run while they work at night and that there are measure put in place to protect them from sexual assault while on the job. The union has been fighting to have these new terms met since August 2020.
The San Francisco Maintenance Contractors Association issued a statement saying that janitors in the city received some of the highest wages in the country and robust health insurance plans. The association, which represents some of companies that hire these workers, also said that janitors in the city receive retirement benefits.
SEIU said that 26 janitors have died from COVID-19 since it began. One janitor told NBC Bay Area that he and others are picking up trash without access to hand sanitizer. He also said companies are only supplying one to two masks to workers every two to three months.
The San Francisco Maintenance Contractors Association said that its member companies have spent more than $1.5 million on personal protective equipment, hand sanitizer and disinfectants since the beginning of the pandemic.
The protesters also demand a rehiring of janitors and other cleaning workers who have been laid off since the pandemic began. According to NBC Bay Area, 3,000 janitors and cleaning staff have been let go due to the pandemic.