How To Tell The Difference Between COVID-19 And The Flu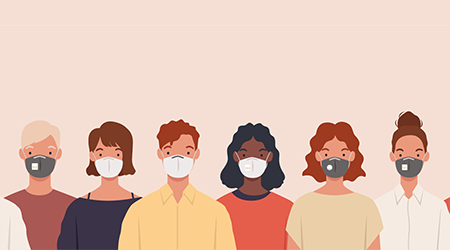 The United States just entered its eighth consecutive month in which COVID-19 is a considerable threat on public health, and things won't get any easier as the Northern Hemisphere's annual flu season is just now heating up. Experts worry that the combination of a bad flu season and the COVID-19 pandemic could create an unheralded situation in which two types of sickness could dominate the country.
Before the flu season gets serious, it's important to note the differences between it and COVID-19, because it's actually difficult to tell which is which.
According to ServiceMaster by Simons, the flu and COVID-19 share the following symptoms:
- Headache
- Muscle pain or body aches
- Fever or chills
- Cough
- Difficulty breathing
- Fatigue
- Runny or stuffy nose
- Sore throat
Luckily, some symptoms often suggests one illness and not the other. According to ServiceMaster, a person with a fever and itchy eyes is more likely to have the common flu, not COVID-19. A person who loses their ability to smell or taste is also more likely to have COVID-19 than the flu.
Other symptoms of COVID-19 include:
- Pain or pressure in the chest
- Confusion
- Bluish face or lips
- An inability to stay awake or wake up
Symptoms of the common flu are also different than those of COVID-19 in that they typically appear between one to four days after exposure, whereas COVID-19 symptoms usually arrive anywhere between two days to two weeks after exposure.
Disclaimer: Please note that Facebook comments are posted through Facebook and cannot be approved, edited or declined by CleanLink.com. The opinions expressed in Facebook comments do not necessarily reflect those of CleanLink.com or its staff. To find out more about Facebook commenting please read the Conversation Guidelines.