How Product and Process Innovations Will Tackle Restroom Hotspots in 2023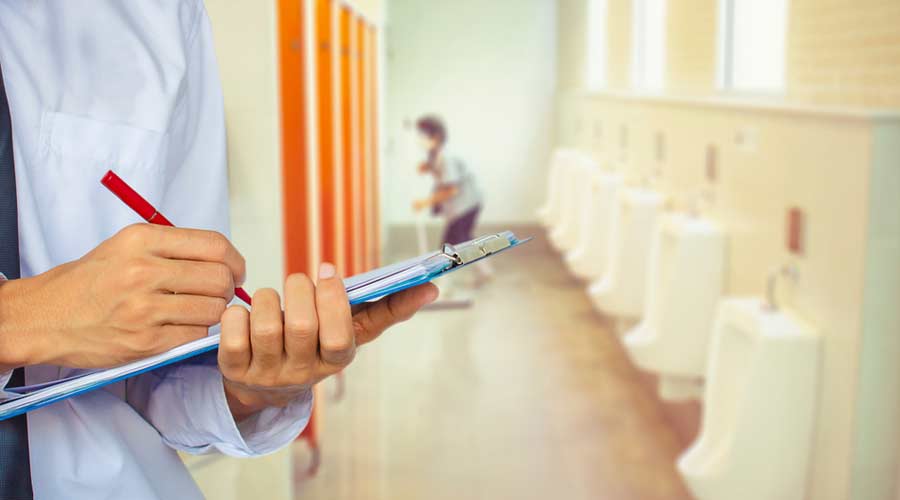 Contributed by Phil Carrizales, Director of the Hygiene and Facilities Solutions Division, Acme Paper and Supply Company
Sanitation, disinfection, and cleanliness remain top of mind for facility restrooms of all types, especially when it comes to the most common restroom hot spots. Hands-free has been the trend over the past couple of years in restrooms as COVID-19 has changed the ways in which people view and use public facilities.
Restroom hot spots remain a high priority when it comes to disinfection processes. These high-traffic, high-touch areas include handles on doors, stalls, and toilets as well as dispensers and faucets. Touchless technology is replacing manual dispensers as the desire for hands-free fixtures continues to trend upward.
The beauty of the newer hands-free fittings is the less frequent need for disinfection as consumers no longer need to press or touch anything to dispense products. Fixtures such as hands-free toilet flushers, automatic soap and sanitizer dispensers, automatic faucets, and touchless paper towel dispensers have all become mainstream in restrooms from Class A facilities, healthcare buildings, and schools to restaurants and airports.
Cost Effective Solutions
Many facility managers and owners acknowledge that retrofitting restrooms with newer hands-free technology is not a cost-prohibitive investment or long-term expense. In fact, these fixtures show cost savings often within six months. Many of the major manufacturers provide touchless technologies at no cost to the facility in exchange for the use of dispenser refill products (soap, hand sanitizer, paper towels, and the like).
Additionally, automatic dispensers regulate and limit the amount of product being used so people don't use three times more soap or paper products than they actually need, for example. Even touchless faucets are cost-effective, cutting down on water and sewer usage. Recently, ACME helped migrate all facilities of a large, national hospital system to hands-free sanitizer and soap dispensers. As a result, the organization has seen a 22 percent reduction in consumer usage of these products and significant cost savings over time.
2023 Forecast and Trends
If COVID-19 taught us anything, it's the need for proper disinfecting processes, especially in public restrooms. And while touchless fixtures help minimize the need for around-the-clock sanitation of traditional hot spots, the emphasis on cleanliness remains a high priority for custodial crews and facility managers. But cleaning processes have gotten smarter over the years as staff views the restroom from a user point of view to understand all of the touchpoints that need to be sanitized including handles and latches inside of the stalls, an often overlooked area.
We're also seeing many facilities installing people counters, overhead devices that are connected to a building's Wifi or cellular systems to provide data on how many people go through a restroom per hour. This data is proving to be very useful, allowing managers to dedicate staffing resources more efficiently to higher-traffic restrooms.
In several large school systems, for example, ACME is currently testing people counters as well as the efficiency of automatic dispensers that show how much product is used and remaining. What we're seeing is a 17 percent efficiency gain in personnel usage as the custodial staff is able to utilize their time more effectively when it comes to cleaning and servicing restrooms overall.
Ensuring that restroom hot spots are clean and disinfected and facilities have access to the touchless technologies that help reduce high-traffic touchpoints remains a priority and many of the new products and fixtures are proving to be highly efficient. From Class A office buildings to schools and hospitals, we're seeing cost savings and more effective restroom maintenance practices across the board as new hands-free products continue to roll out. It's making for a much cleaner and more pleasant restroom experience.
Phil Carrizales is the director of the Hygiene and Facilities Solutions Division at Acme Paper and Supply Company, one of the nation's largest suppliers of sanitation solutions, disposable food service packaging, restaurant equipment and supply, retail and industrial packaging, and custom-designed packaging. Phil has over 20 years of experience in account management for major cleaning suppliers and is ISSA certified. Phil can be reached directly at pcarrizales@acmepaper.com. For more information visit https://www.acmepaper.com/index.html.