Green Clean Schools Celebrates Leadership Success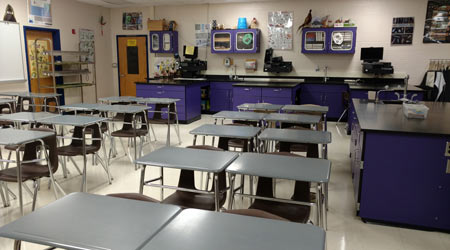 On July 28 and 29, 2016, more than 80 people — including 45 facility operators from 21 unique schools and universities — gathered for two days of engaging discussion about how to work together to move the green cleaning movement forward.

The Green Clean Schools Leadership Institute, presented by Healthy Schools Campaign and held in Ellicott City, Maryland, offered networking among members of the industry, representatives from the U.S. EPA and NGOs, and Healthy Schools Campaign staff. It also featured panel discussions on leadership as a key element in the green cleaning movement, as well as participation in the first-ever Systems Thinking Systems Change simulation geared toward school facility operators.


On the first day of the event, attendees broke into smaller groups to participate in a facilitated simulation, working as a team to navigate a school system to push a specific change through to completion. Competition ran high, teams got excited and groups were moving around the room in a way that's rarely seen in a conference setting. The results were some takeaway lessons that are vital to the success of green cleaning programs, such as the importance of getting buy-in from top leadership, stakeholders and the community.


On day two, attendees toured two well-maintained buildings within the Howard County Public Schools school district, which helped show practical application of key leadership skills. Custodial staff was placed in stations throughout the buildings, explaining sustainability, green cleaning practices, equipment, zone and team cleaning, and integrated pest management.

Tour guests saw firsthand how Maryland's state laws on integrated pest management, green cleaning and environmental literacy have shaped the programs and procedures at a school level. This tour was also an important way for the green cleaning team at Howard County Schools to get recognized for all of the wonderful work they are doing to protect the health of their schools, staff and students.

The event also offered leadership training throughout. Green Clean Schools Leadership Council members reminded attendees over and over that there is no green cleaning without strong leadership.

Finally, Steve Ashkin led a discussion full of sports analogies that inspired attendees to lead, and ignited a conversation among attendees that asked how facility operators could lead the green cleaning movement to new heights.


In a statement, Healthy Schools Campaign said:
"We left Maryland feeling more than ever before the need for the recognition of the people who work tirelessly every day to keep schools healthy and clean, those in school facility roles.

"At Healthy Schools Campaign, we recognize the importance of providing students and staff with the opportunity to learn and work in a place that is healthy and safe. We recognize that how schools are built and maintained contribute to a positive setting for learning and working. We recognize that an institution's approach to cleaning says a lot about how they value students and staff, the communities they are located in, the planet and their sense of connectedness to the broader good and future generations. And, we know that it takes leaders, on the ground, in schools and universities across the country to help steward these institutions down the right path. The Leadership Institute acknowledged and helped inspire many of those leaders."