Great Lakes Capital Extends Long-Term Lease with BorgWarner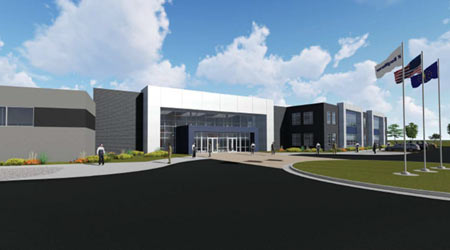 Great Lakes Capital (GLC) is proud to announce the execution of a long-term lease to BorgWarner, Inc called the Indiana Technical Center in Noblesville, Indiana. The 100,000-square-foot build-to-suit facility will help BorgWarner consolidate their two existing operations in Anderson and Pendleton, Indiana. Construction is due to begin on June 5, 2017 with completion of the new site April 2018.

GLC will build this project along with The Hagerman Group and MSKTD & Assoc. GLC will act as Developer/Owner, Hagerman as general contractor and MSKTD as architect/engineer. Several sites and development teams were considered by BorgWarner in a robust RFP process, which lasted over several months. By late February, BorgWarner chose the GLC/Hagerman/MSKTD team and site based upon facility design, location and overall value.

"The entire development team is genuinely honored to be part of such an important strategic effort by a major corporation. BorgWarner could have picked among many different development teams and alternatives, and we are grateful to have been selected to be part of this initiative," said David Arnold, Director at GLC.

BorgWarner also worked directly with The City of Noblesville and Indiana Economic Development Corporation during this process. Both entities were very proactive in their efforts to accommodate such an important employer. Noblesville economic development staff and leadership have been particularly diligent and proactive in accommodating the needs of BorgWarner.

BorgWarner manufactures clean and efficient technology solutions for combustion, hybrid and electronic vehicles worldwide. This technology center is geared around an open concept design. Like many companies are doing, this type of design concept will enhance collaboration. The new facility is considered very important by BorgWarner in retaining and attracting future technical talent which is critical to their continued technological leadership.

"We are looking forward to a long and robust relationship with Borg Warner and Noblesville as we expand our presence in the greater Indianapolis region," says Ryan Rans, Managing Partner for Great Lakes Capital.