GP PRO and Atlanta Airlines Terminal Corporation Win Sustainable Packaging Award for Waste Reduction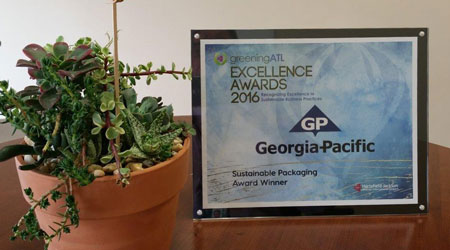 GP PRO, a provider of integrated restroom and food service solutions for commercial facilities, and Atlanta Airlines Terminal Corporation (AATC) were awarded the "Sustainable Packaging Award" for reducing packaging waste by the City of Atlanta's Department of Aviation. The award recognizes the environmental impact of GP PRO's Compact Coreless High Capacity Bathroom Tissue for reducing waste at Hartsfield-Jackson Atlanta International Airport and promoting sustainable business practices.

Hartsfield-Jackson Atlanta International Airport uses thousand of cases of Compact White Coreless High Capacity 1-Ply Bathroom Tissue annually, preventing nearly 200,000 pounds of waste from entering the landfill stream.

"It can be easy to take bathroom tissue and its packaging for granted. But the impact in places like the world's busiest airports can't be overstated," said Nick Trainer, vice-president of commercial tissue, GP PRO. "We are honored to be recognized with AATC for our combined effort in providing travelers with products that are dependable and also incorporate economic and functional dimensions of sustainability."

Compact Tissue is designed to help reduce the environmental footprint of public facilities, especially those with high traffic. The product features no cardboard cores, inner wraps or outer corrugate which amounts to 95 percent less packaging waste compared to Georgia-Pacific's standard bath tissue. It contains at least 25 percent post-consumer recycled fiber, is EcoLogo™ Certified and is EPA-compliant, making it an ideal restroom option for environmentally-conscious customers.

"Sustainability is an important consideration in AATC's operational decision-making, and we are pleased that the City of Atlanta recognizes our efforts to responsibly improve and care for our community," said Rod Ozust, Deputy Director of Operations for AATC. "Utilizing Compact Coreless Bathroom Tissue has enabled us to enhance not only the experience of airport travelers, but also preservation of the environment."

For more information about sustainability initiatives of GP PRO products, visit gppro.com/sustainability.