Five Tips To Spring Cleaning Facilities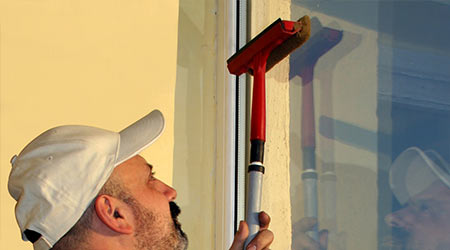 Spring is the chance to hit the reset button on your company's routine processes. While your organization may pride itself on "keeping it clean" all year long, spring is the opportunity to ensure you're maximizing your cleaning energy to greatest effect, not just following the same old standard processes. To make a high-value impact this spring, focus on the following:

1. Give the floors a major refresh: All winter long, people have been tracking in gravel, sand and salt from their shoes onto the hardwood and carpet. Routine periodic floor maintenance is an important component of the overall cleanliness of a commercial facility. Though it may cost a bit more than regular upkeep, this maintenance will drastically prolong the life of the flooring and it will save clients bundles in the future.

2. Focus on windows after winter: While you may have been paying regular attention to interior windows, use the spring to focus on sills, frames and upselling exterior glass cleaning as soon as the weather allows.

3. Choose microfiber: This spring is the time to make the switch to microfiber mops and cleaning cloths if you haven't already. The difference microfiber makes on a facility is enormous; as microfiber picks up dust and germs rather than just moving them around. If you're already using microfibers in your process, then now is a great time to inspect all of them and toss those that have become heavily stained, worn out or in general poor condition.

4. Reassess your cross-contamination prevention system: At Office Pride, we have a comprehensive color-coded system that eliminates the potential for cross-contamination between restrooms and other areas such as break rooms, offices, etc. Go over your company's protocol for preventing cross-contamination, and if it hasn't been updated or changed in the last several years, this spring is the time to streamline the process.

5. Reassess your equipment: Winter not only takes a toll on people's health, but it can take a toll on the health of our business' equipment. This is the perfect time to perform a focused maintenance and inspection process on all your equipment — vacuums, autoscrubbers, mop buckets, etc. Employees will appreciate having good, working equipment, customers will appreciate a cleaner building, and you will appreciate better profit as a result of both.

This article was written by Olon Hyde, Director of Operations at Office Pride Commercial Cleaning Services.