First State Bans Triclosan In Soap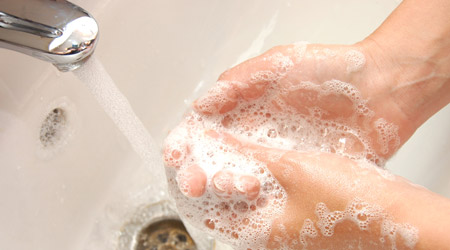 As of Jan. 1, Minnesota became the first state to ban soaps containing the once ubiquitous germ-killer triclosan. But, according to CBS News reporting, the people who spearheaded the law say it's already having its desired effect on a national level.

The federal government also called for a ban, which will take effect in September 2017. Major manufacturers have largely phased out the chemical already, with some products being marketed as triclosan-free.

Triclosan once was widely used in anti-bacterial soaps, deodorants and even toothpaste. But studies began to show it could disrupt sex and thyroid hormones and other bodily functions, and scientists were concerned routine use could contribute to the development of resistant bacteria. University of Minnesota research found that triclosan can break down into potentially harmful dioxins in lakes and rivers.

The Minnesota ban was signed in 2014, giving industry manufacturers until Jan. 1, 2017 to comply.

In September, when the FDA announced their soon-to-be instituted national ban of triclosan and a list of other anti-bacterial chemicals used in hand and bodywash products, they issued a press statement that said, "Antibacterial hand and body wash manufacturers did not provide the necessary data to establish safety and effectiveness for the 19 active ingredients addressed in this final rulemaking."

Dr. Janet Woodcock, director of the FDA's Center for Drug Evaluation and Research, said in the statement, "Consumers may think antibacterial washes are more effective at preventing the spread of germs, but we have no scientific evidence that they are any better than plain soap and water."

In fact, she added, "Some data suggests that antibacterial ingredients may do more harm than good over the long-term."

According to reports, most major brands are now reformulated and soaps containing triclosan on store shelves are likely stocks that retailers are just using up.

Read the full article here.