Final 5 Revealed in Canada's Top Restroom Contest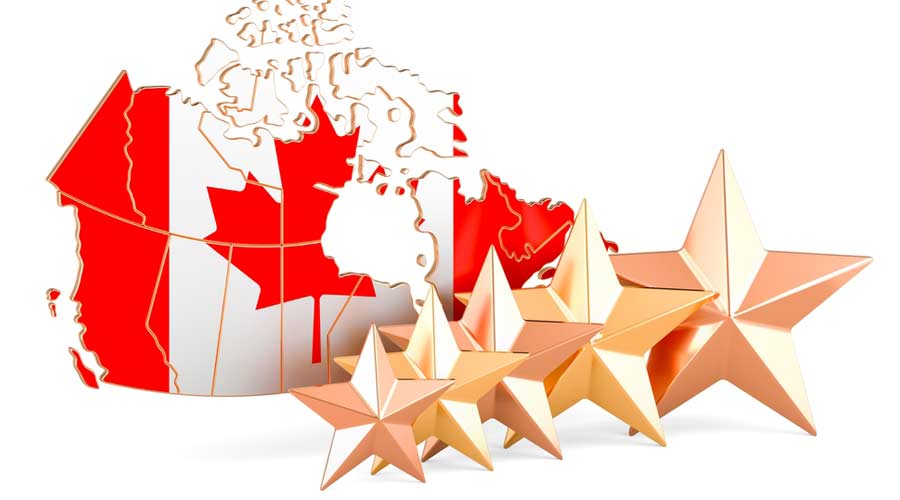 Cintas Canada invites the public to vote for their favorite washroom for the 2023 Canada's Best Restroom contest. The public can vote multiple times now through July 7, 2023 at bestrestroom.com/ca/vote/. The winner will receive $2,500 in facility services from Cintas to help maintain their award-winning restrooms.
The Canada's Best Restroom contest highlights businesses that have invested in developing and maintaining exceptional washrooms.
"We're proud to highlight these five finalists that have invested in clean and unique washroom facilities to keep their guests coming back," says Candice Raynsford, marketing manager, Cintas Canada. "We encourage the public to make their voices heard and support these businesses by voting in the contest."
Nominees for this year's contest were judged on five criteria: cleanliness, visual appeal, innovation, functionality and unique design elements. The five finalists include:
• Forest Pavilion Washrooms (Winnipeg, Manitoba): Forest Pavilion at Crescent Drive Park is a four-season structure constructed on Treaty One land in the floodway zone of the Red River, at Crescent Drive Park, in southwest Winnipeg. It is a first civic structure of its kind to apply protective FEMA flood design standards in Winnipeg. All materials below the flood-line can be completely submerged without decay. Sustainable building choices include native planting, the use of durable hot-dipped galvanized steel, mechanically fastened (so as to be easily replaced) rough-sawn fir that was sourced and milled using sustainable harvest practices, and super low-flow plumbing fixtures, LED lighting, and occupancy sensors to reduce consumption.
• Hard Bean Brunch Co. (Port Moody, B.C.): Individual, gender-neutral stalls are framed in bright, yellow trim with matching signature yellow doors in this popular brunch spot's washrooms. Painted navy blue with sleek, black or white tile sits below fun palm leaf wallpaper with a pink and navy theme. Each fully enclosed stall is equipped with a sink for full privacy. Don't forget to check yourself out in the LED backlit mirror before getting back to brunching.
• The Gathering Place Washrooms (Vancouver, B.C.): The Gathering Place is a vibrant community centre with a mission to serve Vancouver's diverse population including people who are unhoused, individuals who are marginalized, seniors, newcomers, and the LBGTQIA2S+ community. When the City of Vancouver tasked Carscadden Stokes McDonald Architects with renovating the Gathering Place's existing washrooms, with support from the City and Gathering Place staff and stakeholders, they focused on creating universally accessible, durable, and unexpectedly stylish spaces for folks that might not otherwise have access to inviting and fun public washrooms. One of the washrooms features a custom-built footbath with a bench for quick cleaning, while fully accessible showers are also provided. Access to clean, safe, accessible washrooms is a human right; making them charming and chic in the process is just a great idea. Using surprising colour combinations in tile, paint, and grout, anchored by simple white floors, vanities, and huge round mirrors, the facilities were designed to be easy to maintain, keep clean and safe to use.
• Yesterday's Auto Gallery (Edmonton, Alberta): Start your engines to experience the memorable washrooms at Yesterday's Auto Gallery. Canada's largest Classic Car Museum features classically, clean washrooms. The car-themed washrooms include car photos on the wall, along with a picture of Fonzie "The Fonz" from "Happy Days" which will revive some old memories. Large white tile makes the space in this spacious washroom feel bright.
• The Big Apple (Colborne, Ontario): Known for its tasty pies and fun family activities, The Big Apple's slogan is, "A little bit of country, a whole lot of fun!" The same holds true for its washrooms. They are outfitted in rustic décor, including metal stars hung along the walls, decorative corrugated metal signs and mirrors framed by weathered wood. The wood-toned tile and stalls also add to the country vibe to make you feel right at home.
For contest updates, fun facts and washroom trivia, "Like" Canada's Best Restroom on Facebook at www.Facebook.com/CanadasBestRestroom. Read about last year's winner here.