FDA Rules On Safety And Effectiveness Of Antibacterial Soaps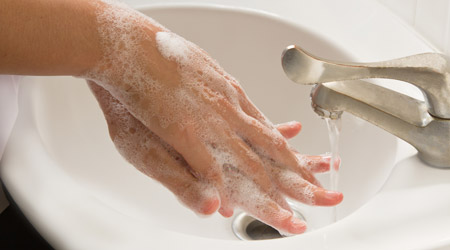 The Food and Drug Administration ruled on Friday that it is banning the use of 19 active ingredients found in antibacterial soaps and washes. The most common of these are triclosan, typically used in liquid antibacterial soaps, and triclocarban, used in bar soaps.

Manufacturers will have one year to remove the ingredients from their products, or be forced to take them off the market.

"Consumers may think antibacterial washes are more effective at preventing the spread of germs, but we have no scientific evidence that they are any better than plain soap and water," said Janet Woodcock, director of the FDA's Center for Drug Evaluation and Research, said in a statement. "In fact, some data suggests that antibacterial ingredients may do more harm than good over the long-term."

As reported by the Washington Post:
Theresa Michele, FDA's director of the division of nonprescription drug products, said in a call with reporters that the "vast majority" of the more than 2,000 antibacterial products on the market contain at least one of the banned ingredients.

She said the agency had asked manufacturers for data showing that the long-term use of the ingredients was safe, as well as evidence that the antibacterial products were more effective than soap and water in curbing the spread of illnesses and infections. But she said the companies either didn't provide the data or the material submitted wasn't convincing.

An industry group that represents makers of cleaning products disputed that, saying manufacturers had submitted the required information. "The FDA already has in its hands data that shows the safety and effectiveness of antibacterial soaps," the American Cleaning Institute said in a statement. "Manufacturers are continuing their work to provide even more science and research to fill data gaps identified by FDA."

The association added that antibacterial soaps and washes "continue to be safe and effective products for millions of people every single day."

The FDA's final rule does not affect consumer hand sanitizers, wipes or antibacterial products used in hospitals and other healthcare settings.