Encouraging Spring Cleaning In Offices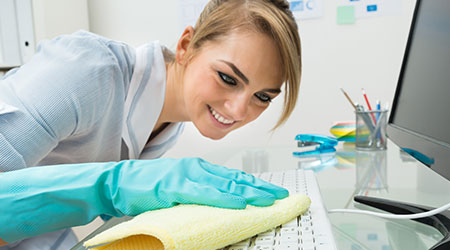 In a commercial setting, cubicles and offices are often seen as the personal space of building occupants. With the exception of daily trash removal and occasional dusting and vacuuming, cleaning workers rarely invade the space. This can lead to clutter and bacteria build-up.

It's important for cleaning workers/departments to remind building occupants to maintain their personal areas, in an effort maintain a healthy environment.

Following tax time, cleaners should remind building occupants to clear paper clutter. This is also a great time to clean and disinfect surfaces, according to CBS Chicago reporting. Key aspects to an office spring cleaning include:

• Physically cleaning the office after cold and flu season to reduce the risk of spreading germs throughout the office. Thoroughly disinfecting will help keep workers healthy and organized.

• Disinfecting the phones with anti-bacterial microfiber cloths specifically made the list of tips. If cloths aren't available, mix a 40/60 alcohol/water solution to remove germs.

• Cleaning vents on computers, printers and other electronics will keep them from overheating. Keep electronics running smoothly by using a microfiber cloth and cotton swans to clear dust and lint from these vents.

For other advice on how to help building occupants improve cleanliness, click here.