Education Highlights The 2017 Cleaning Show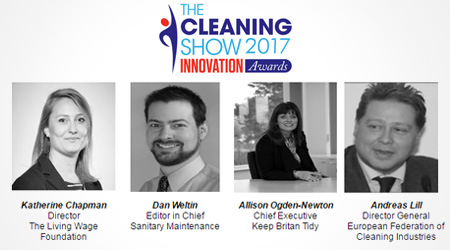 BCC Chairman Simon Hollingbery, is urging visitors to the Cleaning Show in March to attend at least one seminar, as he says there is a wealth of information available that will be relevant to anyone running a cleaning business.

"We've organized a very comprehensive array of guest speakers and seminars which will examine important aspects of the industry such as: Marketing, Immigration Enforcement, Apprenticeships, Health and Safety, The Living Wage, The Environment and Europe," he says.

The seminars run across the three days of the show starting with an opening address from MP Jim Fitzpatrick, and a keynote address from Alison Ogden-Newton, Chief Executive, Keep Britain Tidy.

The first day also sees a keynote speech and seminar from Chris Edwards, who is Assistant Director of the Home Office Immigration Enforcement unit. He'll be looking at illegal workers in the cleaning industry and ways to tackle the problem from an employers perspective.

The second day features an afternoon keynote presentation from Dan Weltin, editor-in-chief of Sanitary Maintenance and Contracting Profits. Weltin will cover five trends changing the contract cleaning market.

Day two will also look at how to market a business in the digital world, and there will also be a special focus on Health and Safety, with a number of officials from the HSE delivering seminars on issues like 'occupational respiratory health in cleaning' and 'preventing slips and trips' with senior policy advisor, Tracy Hamilton, showing delegates how to make their businesses safer and stay on the right side of the law.

The seminars will also run on the third day of the show, where an expert industry panel will look into the future of the cleaning industry at areas like robotics.

"The great thing about this year's seminar program, is that we've got industry experts right there on the spot, and attendees will be able to ask them anything they want, even having a private one to one if they wish," says Hollingberry. "This kind of knowledge and insight cannot be acquired anywhere else and that adds real value for anyone attending the show."

The Cleaning Show takes place March 14-16 at ExCeL in London.