Earth Friendly Celebrates 50 Years Of Green Cleaning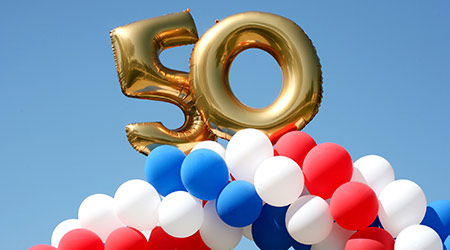 Earth Friendly Products, the maker of ECOS environmentally friendly cleaning products, is celebrating 50 years of green cleaning innovation, a significant achievement in the cleaning products industry. 2017 marks the 50th anniversary of the family-owned and –operated company, and it will celebrate this important milestone with gala celebrations at its four sustainable manufacturing facilities across the U.S. The celebrations will occur throughout the month of April in conjunction with global Earth Day celebrations, in honor of the company's long-standing commitment to environmental protection.

Earth Friendly Products has achieved many firsts in developing safer cleaning products. The company has received many awards for its advances in safer green chemistry, including the U.S. EPA's coveted Safer Choice Partner of the Year. In 2016, Earth Friendly Products was the first cleaning products company to use the safer ethylhexylglycerin as a preservative in its formulations, partnering with the U.S. EPA to establish it as a Safer Choice–recognized chemical.

"I'm proud to continue our company's legacy as an eco-pioneer while making Earth Friendly Products a model for green business practices," says Kelly Vlahakis-Hanks, president and CEO of Earth Friendly Products. "It's important to me that we continue to lead as an American manufacturer, creating green jobs and supporting local economies. Since the beginning, our mission has been to make plant-powered cleaners that are safer for people, pets and the planet, and to do that for 50 years while supporting our employees and our communities is very rewarding."

Earth Friendly Products is also a nationally recognized leader in corporate social responsibility, paying one of the highest minimum wages in the nation and supporting its employees with numerous family-friendly benefits such as paid healthcare, sick time, and maternity and paternity leave. The company also offers its employees financial incentives to adopt green lifestyle choices, such as purchasing a low-emissions vehicle, installing solar panels, and relocating close to its facilities to reduce carbon emissions and long commutes.

"Earth Friendly Products is a model for manufacturers across the U.S. that shows you can do the right thing for customers, employees, and the planet and be successful," says David Levine, co-founder and CEO of American Sustainable Business Council. "Their 50 years of continued growth is a testament to the fact that companies can do good and do well."

Founded in 1967, Earth Friendly Products was launched at the dawn of the environmental movement in the same year that saw the passage of the Air Quality Act and the founding of the Environmental Defense Fund. The company was an early supporter of Earth Day, which traces its roots back to 1970.