Sponsored
Dreumex Disinfecting Wipes Offer a Powerful, One-Step Solution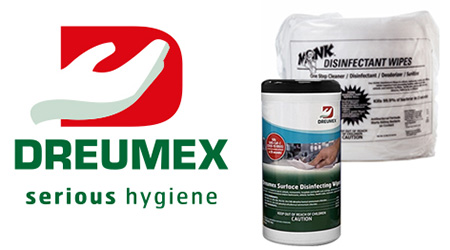 Dreumex Disinfecting Wipes are quick, effective, and ready to use—delivering powerful disinfecting solutions and registered on EPA's List N, with kill times starting at 30 seconds.
With our Power Wipes® and MONK® Disinfectant Wipes, we offer a one-step cleaning solution for every situation, suitable for institutional and industrial use, as well as in-home use.
Disinfecting Made Easy
Dreumex Disinfecting Wipes are a ready-to-use, all-in-one solution, with no preparation. Using a Dreumex Disinfecting Wipe is a one-step process, leaving the solution on the surface to ensure the proper dwell time to disinfect.
Heavy-Duty Wipes
Our multi-purpose, heavy-duty wipes are much stronger than normal wipes and traditional paper towels. The special formula in the wipes deeply penetrates grease, oil, ink, paint, dirt, and grime. With a few swipes, you'll remove the dirt from your hands, tools, and surroundings.
About Dreumex
Dreumex USA is located in York, PA with its corporate office in Oss, Netherlands. Dreumex has been a leading manufacturer of innovative, heavy-duty hand cleansing and hand care products for over 70 years. Dreumex USA, Inc. expanded its industry reach with its acquisition of MONK® Disinfectant Wipes in 2015. From soaps and cleaning products to protective creams and disinfecting wipes, we provide crucial cleaning solutions. At Dreumex, we believe hygiene and cleanliness are vital for all businesses and public spaces. We are determined to contribute to our customers' health and help prevent the spread of diseases.
Discover More
Come explore the Dreumex difference by visiting us on the ISSA show floor, booth 3729.
Or visit Dreumex.com.