Disinfection Demand in Medical Facilities Fuels Commercial Cleaning Growth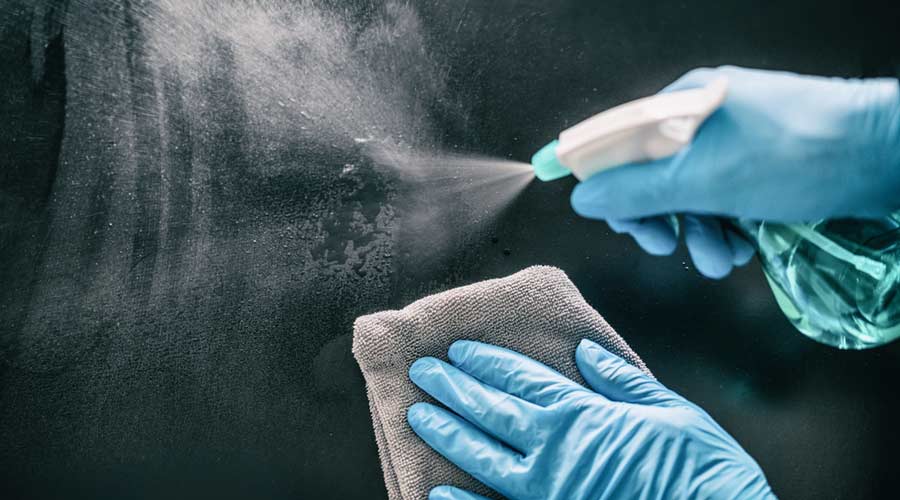 Contributed by Office Pride
As medical demands grow, so do the need for disinfection services to clean medical facilities, hospitals and surgical centers to protect the health of patients.
And the demand for cleaning medical facilities is expected to grow exponentially.
The global high-level disinfection services market is expected to grow at a compound annual growth rate of 7.3 percent from 2022 to 2030, according to a Research and Markets report. This surge in the market growth is being driven largely by the increase in hospital-acquired infections and surgery site infections.
"The increasing prevalence of hospital-acquired infection and surgical site infections, the increasing number of surgeries coupled with the rise in the incidence of chronic disorders, and the impact of COVID-19 are the key driving factors for the market," according to the report.
The Centers for Disease Control and Prevention (CDC) in 2017 reported that hospital-acquired infections lead to more than 99,000 deaths each year. Unclean medical devices were cited as a a key source of hospital-acquired infections.
The growing need and the aging population are driving the market expansion, and companies like Office Pride Commercial Cleaning Services offer specific and much-needed cleaning services to ensure the safety of patients.
Adrian Titsworth, owner of Office Pride of Oklahoma City-Moore, said he saw a shift early in the pandemic to a greater need for cleaning services in the medical field and it hasn't gone away. His franchise location, employing a staff of about 100, services many outpatient clinics and surgery centers in the Oklahoma City metro area.
"I would say two years ago, we saw a spike in demand for disinfectant spraying. The clinics wanted to make sure the patients and employees felt comfortable and that everything was getting sanitized properly," he said.
As the demand for cleaning services has grown, Titsworth has noticed a growing trend in the demand for terminal cleaning of surgical centers and hospitals.
"It's where you go in after all the surgeries and you're disinfecting everything top to bottom, from the walls to the floors," he added. "I think we are going to see an increased need for this because there's a need to keep all of that disinfected and clean, and hospitals are having a hard time staffing their own in-house people."
The specialization of the cleaning of walls, machines and equipment, along with training and types of chemicals, is also a benefit to medical facilities that want the cleanings done correctly to minimize the threat to patients.
Using Office Pride's outbreak cleaning and disinfecting protocol, professional cleaners can sanitize and disinfect hospitals, surgery centers and other medical facilities to kill germs lingering on surfaces that could pose problems for patients and staff. Office Pride's cleaning teams wear the appropriate personal protective equipment and follow all manufacturer, CDC and Environmental Protection Agency (EPA) guidelines to protect themselves and others.
"It's a different type of clean," says Titsworth of medical cleaning. "We always try to find someone with that type of experience. You're going to see blood and those kinds of things because it is dealing with surgeries."
Titsworth also noted an increased demand for disinfection services at urgent care facilities. One location his company cleans regularly sees more than 80 walk-in patients a day. That is just one of the 50 busy clinics they serve.
"Healthcare is where it's at right now," he says. "They have to keep it clean. They have to keep it clean daily. I love medical. There's a lot that goes into it."
Office Pride offers spraying common areas, personal spaces and hard-to-reach corners and crevices in the workplace. Electrostatic sprayers are effective in fighting the spread of germs that cause COVID-19, flu and other respiratory illnesses.
Marc Stewart, who operates Office Pride of Oklahoma City-Edmond, has seen a similar demand from his clients for disinfection services, which includes a local Veteran's Affairs clinic and area medical offices, as offices try to reduce bacterial growth and exposure to patients.
Changes from drip to cartridge soap dispensers, the increased use of disposable cloths and the transition from washable flat mops to disposable mops are among the requests Stewart is hearing from clients.
It's a trend that he sees growing in the coming years, especially with how practices have changed since the pandemic.
"I think before the pandemic, they were mindful of it, but the cost of getting it correctly done outweighed the mindfulness of it," he says. "More offices, especially clinics, are going to see the value of using a service that may cost a little bit more but yet really limits the exposure to certain viruses and bacteria. You don't want to be that doctor's office where you walked in with a cold, and you walked out with something else."