Cleaning Up Hospitality Soap Waste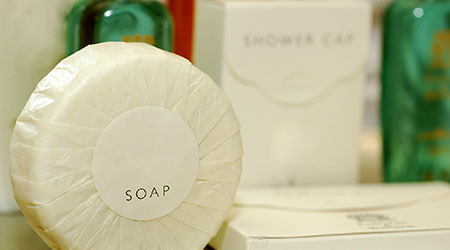 Tourism supports business all over the globe, but it also creates a whole lot of waste. According to Thrillist reporting, the tourism industry results in the disposal of roughly a million bars of soap a day in the US, and perhaps 5 million bars a day worldwide.

But hospitality housekeeping departments are working hard to clean up their act — at least in the wasted soap department — by donating their guest soaps instead of tossing them into the trash. Partially-used hotel soaps are collected by Orlando-based Clean The World (CTW), where they are melted down to make new soap and sent to impoverished countries.

Hotels that partner with Clean The World pay the company 50 cents per room per month to have soaps recycled. CTW provides bins, pickup, delivery, shipping and training to the housekeeping staff.

They also work with hotels to recycle those partially used shampoo, conditioner, and body wash bottles. If the bottles are more than three-quarters full, they are cleaned and included in hygiene kits along with toothbrushes, toothpaste, hand sanitizer, and other items, then sent to homeless shelters around the world. Empty bottles get recycled.

According to reports, in the last year, Clean The World sent out 400,000 hygiene kits and made more than 7 million bars of soap, including half a million bars for Haiti and the Bahamas after Hurricane Matthew.

Roughly 5,000 hotels participate in the program in the United States, including all of Disney's properties, most of the Vegas strip and dozens in New York and Chicago. CTW also collects soaps in Hong Kong, London, Montreal and India.

To learn more about how Clean The World came to be and how to become involved, click here to read the full article.