CleanTelligent Software Wins Fifth Innovation Award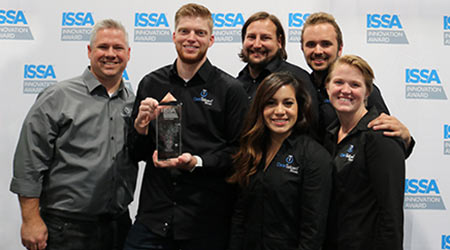 CleanTelligent Software, which provides comprehensive quality control and management software solutions to building service contractors and facility managers, won this year's ISSA Innovation Award in the Services and Technology category for their recently launched Business Intelligence (BI) dashboard. The Innovation Award — CleanTelligent's fifth overall — was presented at ISSA/INTERCLEAN North America 2017 in Las Vegas.

CleanTelligent competed against 10 other companies in the Services and Technology category. Winners in each category were determined through votes submitted online by distributors, wholesalers, building service contractors and in-house service providers.

Caden Hutchens, Vice President of CleanTelligent, said, "Our company prides itself in providing customers with innovative tools to help them succeed and stay competitive in our industry. Winning this award again, for a fifth time, says a lot about our dedication to that mission and our investment in our clients' success."

The new BI dashboard, available upon logging in to the CleanTelligent web app, enables users to make smarter, faster decisions by quickly analyzing the most important data points from previous site inspections and work orders. "Our users store a lot of data about their clients in CleanTelligent," Hutchens said. "The ability to sort that data effectively, finding and attending to problems more quickly, promotes greater client satisfaction and retention. BI is an important competitive advantage to our users and their cleaning companies."

CleanTelligent's other software solutions, including its mobile inspections and work orders app, won Innovation Awards previously in 2012, 2013, 2014 and 2015. CleanTelligent also won ISSA's Best Customer Service Award in 2014 and 2015.