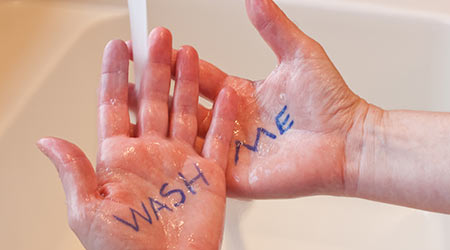 Hand hygiene is at the core of effective infection prevention and control (IPC) to combat antibiotic resistance. That's why the World Health Organization (WHO)encourages the focus of fighting antibiotic resistance in the context of hand hygiene every May 5th.

WHO has designated May 5, World Hand Hygiene Day as a way to promote improved behavior and best practices when it comes to handwashing. WHO wants:
• health workers to clean their hands at the right times, building on hand hygiene improvement efforts made up to now;
• chief executive officers and managers to support hand hygiene campaigning and infection prevention and control programs, to protect patients from antibiotic-resistant infections;
• IPC leaders to lead hand hygiene campaigning and start their journey of meeting the core components for infection prevention and control;
• policy makers to stop antibiotic resistance spread by demonstrating national support and commitment to infection prevention.

Cleaning professionals can help encourage proper handwashing steps, too. What is the proper way to wash hands?
• Wet hands with clean, running water (warm or cold) and apply soap.
• Rub hands together to make a lather and scrub them well; be sure to scrub the backs of hands, between fingers, and under nails.
• Continue rubbing hands together for at least 20 seconds. A good rule of thumb is to teach people to hum the "Happy Birthday" song from beginning to end, twice.
• Rinse hands well under running water.
• Dry hands completely using a clean towel or air dryer.

For more information on how to develop a proper handwashing program, click here. For resources from WHO and more information about World Hand Hygiene Day, click here.
Disclaimer: Please note that Facebook comments are posted through Facebook and cannot be approved, edited or declined by CleanLink.com. The opinions expressed in Facebook comments do not necessarily reflect those of CleanLink.com or its staff. To find out more about Facebook commenting please read the Conversation Guidelines.