Cintas CEO Rings Nasdaq Opening Bell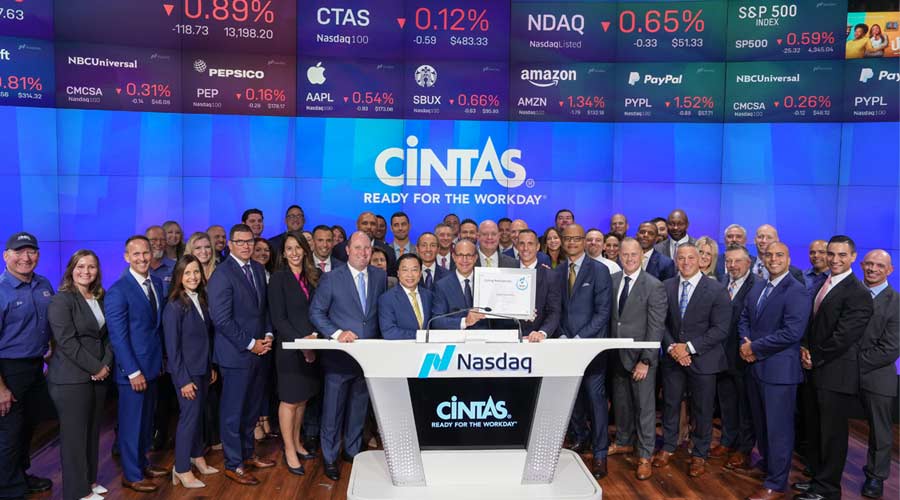 At 9:30 a.m. Eastern Time Friday, Aug. 18, Cintas Corporation President and CEO Todd Schneider rang the Nasdaq Stock Exchange's opening bell, signaling the start of the trading day. The occasion marked Cintas' 40th anniversary of going public and being listed on the Nasdaq exchange.
Schneider was joined on the Nasdaq stage by more than 40 Cintas employee-partners — both company executives and New York City-area employee partners — as he ushered in the final trading day of the week.
A few minutes before the market opened, Schneider offered the Nasdaq audience his perspective on the company's growth over the last 40 years.
"A lot's changed in 40 years," notes Schneider. "If you think about where we are today, we had record revenue of $8.8 billion in fiscal 2023, our market cap is approaching $50 billion. I'd like to thank our customers for their confidence in us and allowing us to help them get ready for the workday, every single day. And I'd like to thank our 44,000 employee-partners for their hard work and dedication in taking incredibly good care of our valued customers. Without our employee-partners we wouldn't have a business and I am grateful for all they do every day."
After the bell ringing, the group moved outside where the exchange's video tower was lit to celebrate Cintas' anniversary and where Times Square had been transformed for a special Cintas fashion show. Twenty models stepped out from a Cintas electric delivery vehicle and displayed a variety of the company's workwear styles, including looks from exclusive rental partners Carhartt and Chef Works.
Cintas Executive Vice President and CFO, Mike Hansen reflected on the progress of Cintas.
"Forty years is a great achievement for us," says Hansen. "We've raised our dividend every year since we went public. We've grown our sales and profits for 52 out of the last 54 years, and we finished fiscal 2023 with 12 percent organic growth and margin improvement, so there's a lot to be excited about for Cintas employee-partners."
In 1983 when Cintas went public, its initial public stock offering price was $0.94 after stock splits. On Friday, its stock price closed at $485.44.
In its fiscal year 1984 — the year of its IPO — Cintas posted revenues of $63 million, profits of $5.5 million and had a market capitalization of almost $111 million. In fiscal year 2023 — Cintas' most recent full fiscal year which ended on May 31 – the company recorded $8.8 billion in revenue and profits of $1.8 billion. On Friday, Cintas' market capitalization was just under $50 billion.
Cintas delivered its very first dividend the year it went public and has increased the shareholder payout every year since — including a 17 percent increase in fiscal year 2023 over its fiscal year 2022 dividend.
"Coming out to New York to celebrate our 40th anniversary as a public company has been a great opportunity to reflect on our business and appreciate all the hard work that's gone into making our company so successful," says Schneider. "Our 44,000 employee-partners embrace our culture of performance, innovation and continual improvement and they are deeply committed to serving our customers every day. That commitment has helped us become the largest rental workwear provider in the United States, the largest van-delivered first aid and safety provider in the U.S., and one of the largest providers of fire protection services in the country. Without our employee-partners, we wouldn't have the growth and success we've had."