Celebrating Building Service Contractor CLEAN Award Winners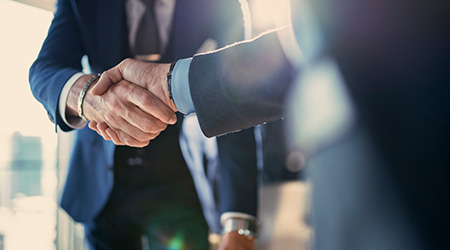 The 2022 Building Service Contractors Association International (BSCAI) CLEAN Awards were presented at the association's Contracting Success Conference held in October in Chicago. The purpose of the awards is to honor the accomplishments winners and nominees had in 2021.
James E. Purcell Leadership Award
The James E. Purcell Leadership Award is considered the most prestigious award presented each year by BSCAI. Named after the founder and first president of the association, it is given in recognition of long-term service to both the association and the building service contracting industry. The winner of this 2022 award is Todd Hopkins, CBSE, CEO and founder of Office Pride Commercial Cleaning Services in Palm Harbor, Florida.
As a newcomer to the industry in the 90s, Hopkins decided to get involved with BSCAI to improve his overall networking, learn about the ever-evolving best practices when it comes to running a commercial cleaning business, and gain additional expertise from the mentors he's since met. As he progressed both as a business owner and BSCAI member over the years, he took more initiative and became actively involved in leadership roles and regularly attended the BSCAI Executive Management Conferences.
His efforts and contributions to the association culminated in Hopkins being named BSCAI president for the 2020 term — a year defined by unexpected twists and turns. During his term, Hopkins helped the association skillfully adapt to virtual networking events, made consistent efforts to keep up with pandemic demands and was transparent when sharing key updates for members.
Expressing his gratitude in receiving the honor, Hopkins says, "It is a great blessing to receive the James E. Purcell Leadership Award from BSCAI, which is an organization of leaders! Joining BSCAI 30 years ago, as a new contractor trying to keep my head above water, was one of the best decisions of my business career. Since then, I continue to learn from many industry greats. Giving back and leading is just the way the BSCAI culture works. Special thanks to all of you who have walked with me over these many years!"
Walter L. Cook Award for Distinguished Service
The Walter L. Cook Award for Distinguished Service is presented each year to a special BSCAI member who has gone above-and-beyond in terms of making long-lasting contributions to furthering programs and the image of the association, and makes a mark on the building service contract industry as a whole. This year, the recognition goes to Alex Blum.
Blum is the vice president of operations at JaniTech in Colchester, Vermont. He's been involved in the cleaning industry for nearly 40 years and made a remarkable impression along the way. Indeed, the president and owner of JaniTech, Dawn Terril, credits Blum with raising awareness about BSCAI when she initially took over the company back in 2006.
"He promoted BSCAI to us as new owners," Terril describes, "and then he joined our team in 2008. His leadership has been instrumental in helping grow the business from 15 employees to more than 200."
Blum is often cited for his great passion for service, and he champions the career path to other developing leaders as they look to rise up the ladder. A tireless advocate for the vocation, Blum's voice is invaluable, especially at a time when companies are often searching for their next batch of managers, leaders and executives.
He is known to not only frequently attend conferences and industry events, but to bring along up-and-coming leaders in order for them to experience the networking and educational benefits that BSCAI has to offer.
"He utilizes all that BSCAI has to offer — the education and networking — to help leaders learn and share best practices with the entire team when they return from events," says Terril.
Blum continues to give back, serving as a mentor to other BSCAI members. His dedication to the next generation of leadership makes him a priceless and irreplaceable member of the community.
Emerging Leader Award presented by Contracting Profits
The Contracting Profits Emerging Leader Award continues a long tradition of identifying exciting young leadership talent in the BSC community, and the 2022 award winner is no exception. Eligible to a business owner or member of the executive team, the recipient must be someone 40 years old or younger that consistently demonstrates excellent and makes positive contributions to the contract cleaning industry. This recognition doesn't come lightly; winners have earned the respect of colleagues, vendors, associates and clients alike over the years. The 2022 winner is Chris Igo, Jr., director of operations at the C.M. Cleaning Company in Canton, Massachusetts.
C.M Cleaning Company is a family affair for Igo, and he has strong feelings about continuing to honor the legacy of the business founded by his grandmother, Carmen Sullivan, back in 1972. His mother helped build the company further, and he plans on carrying the torch along with his brother, Jon — three generations of cleaning success.
As great leaders understand, communication sits at the very core of any profitable and long-lasting business. Igo grasps this concept completely, and excels at conveying his message to coworkers, colleagues and clients.
"He's able to work with all kinds of personalities," says Teresa Simonson, president of C.M. Cleaning Company. "From frontline cleaners to large corporation heads, he treats everyone with the utmost respect."
Igo also is not one to shy away from accountability or responsibility, and peers have noticed. He is intentional about building strong, trustworthy relationships with employees and clients that go beyond professional courtesy. In fact, "integrity" is a word that many use to describe his leadership personality.
Leadership means being approachable and available — something that Igo takes special care to emphasize in his day-to-day responsibilities. He is involved significantly in the company's social media pages and newsletters, making sure his voice is familiar and reliable to employees.
"He takes plenty of photos when he's out on jobs, and takes great pride in both the work and the industry," continues Simonson.
That pride extends to industry conferences and events where Igo is often not just as a visitor, but an engaged participant. At the events, he can be intentional about staying informed and at the forefront of industry trends and innovations.
Igo's leadership involvement extends beyond traditional work, too. For many years, he has partnered with other C.M. Cleaning employees to implement "Saving by Shaving", an event designed to raise money for cancer patients at Boston Children's Hospital.
"He displays strong leadership in all he does," remarks Simonson. "Chris will often show up with pizza or coffee, giving workers a hand when they are feeling overwhelmed or just need a lift that day."
He also trusts his peers and coworkers greatly, makes special effort to recognize their accomplishments, and notices when they make important improvements in their work roles. He displays great patience with both clients and employees and makes certain that everyone is working on the same page.
"A team is not a group of people who work together. A team is a group of people who trust each other," goes the company motto — and Igo has taken this to heart.