Case Study: Self-Sanitizing Changing Stations Simplify Gameday Experience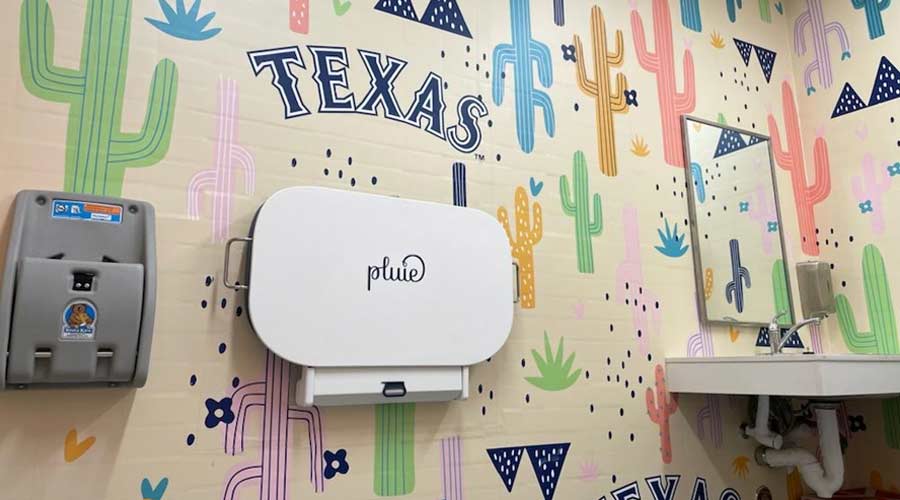 Contributed by Pluie
Pluie has made it to the Big Leagues, literally. The world's first and only self-sanitizing diaper changing table for public restrooms can now be found in three Major League Baseball stadiums across the country: Guaranteed Rate Field (Chicago White Sox), Petco Park (San Diego Padres), and Globe Life Field (Texas Rangers). As fans return to these ballparks, parents with young children can attend with the peace of mind that there is a safe and clean place to change their child's diaper.
Games can be long, and it becomes a hassle when there isn't a clean and convenient place to change a diaper. With Pluie, parents will no longer resort to leaving the stadium to change a diaper. Designed with cleanliness and convenience in mind, it's no wonder right off the bat that one of the first Pluie tables was placed in a sports stadium. In April 2021, Pluie found a home in the White Sox Mother's Nursing Room, providing moms with a pleasant diaper changing experience. Pluie can be found alongside comfortable chairs, electrical outlets for pumps, and a television to watch the exciting game, making the Nursing Room the perfect place to relax while breastfeeding.
It did not take long for other stadiums to scout out Pluie. Petco Park, the #1 Ballpark in the Nation, also saw Pluie as a big hitter and installed changing tables throughout the park. Pluie perfectly aligns with the Padre's Go Green Initiative, aimed at reducing waste by recycling at least 80 percent of trash. With Pluie, Petco Park can reduce the amount of harsh chemicals being used on surfaces where babies are most vulnerable and reduce sanitization cost.
Installing Pluie demonstrates a commitment to health and safety. "Public facilities and family-friendly attractions are more concerned than ever with the health, safety, and comfort of their guests, and I'm proud that Pluie can be a solution for facilities like Petco Park to enhance their guest experience," says Pluie founder and CEO Addie Gundry.
Pluie can also be found in the brand new, state of the art Globe Life Field. One of the most prominent new additions was the introduction of 12 Mother's Rooms, providing a relaxed escape from the commotion of the park. In partnership with Hello Bello, a family care brand co-founded by Kristen Bell and Dax Shepard, each room is supplied with diapers, wipes and toiletries.