Case Study: Hand Dryers Promote Sanitation on Aerospace Machine Shop Floor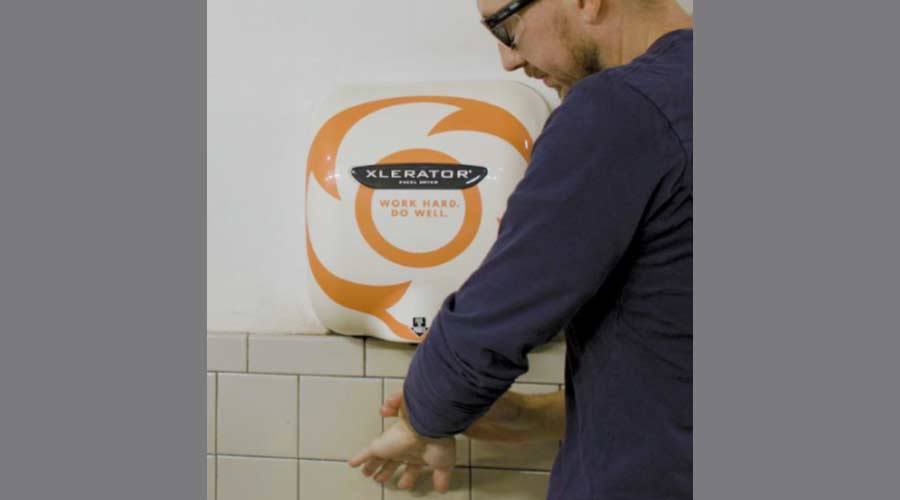 Contributed by Excel Dryer
When a 50,000-pound F-15 Eagle descends onto a runway, the front end comes to rest on a relatively small part known as a "nose landing gear orifice support tube," which is manufactured at a cutting-edge facility in Greenfield, Massachusetts. That machine shop, VSS, is known around the world for their meticulous and impeccably precise work in the aerospace field, for both military and commercial aircraft. From engines to landing gear, they frequently have to meet requirements as exact as 1/10,000th of an inch. What's their secret?
"We pride ourselves on having the cleanest factory of our type out there," says Steve Capshaw, CEO of VSS. "We spend a lot of time on it."
It's just one example of how a sanitary machining shop floor is about more than aesthetics for VSS—it's about safety, quality and precision. VSS runs on the motto "Work hard. Do well." In part, they attribute their ability to accomplish both of these ideals to their dedication to maintaining a spotless facility. It's a primary reason why they turned to Excel Dryer to install high-speed hand dryers in their restrooms and on their machine shop floor. Before the dryers, VSS utilized paper towels in both locations, but it just wasn't a practice they could sustain.
"It was just a mess," says Capshaw. "With the labor involved in maintaining the bathrooms—and the cost of paper towels—it makes no sense to do it."
The benefits begin with the overall hygiene—Excel Dryer's HEPA filtration system in their XLERATOR Hand Dryers has been proven to remove 99.999 percent of viruses from the airstream, based on testing performed by LMS Technologies in 2020. In addition to virus filtration, XLERATORs with HEPA eliminate the multiple unnecessary touch points frequently associated with paper towels—as well as the risk of bacteria buildup on used towels.
Beyond that, it's simply about the efficiency they offer. XLERATOR provides a 95 percent cost savings over paper towels, eliminating their labor, maintenance and waste while creating a more hygienic restroom environment. Capshaw says they have definitely noticed the cutback in necessary maintenance.
"We have a significant maintenance department at VSS," says Capshaw. "In 12 years, they've never had to do any maintenance on the hand dryers. It may be the only thing attached to this place they've never had to maintain."
VSS runs around the clock—24 hours a day, 7 days a week, so it's no surprise that they selected a product that works just as hard as they do.
"We take a ton of pride in making things that last," says Capshaw. "We focus on working with vendors who make things that last for us. Excel Dryer is at the top of the list of vendors who are like that. We love their product because it has lasted—and we expect it to last into the future."