CASE STUDY: Southern Ute Indian Tribe Embraces Eco-Friendly Odor Control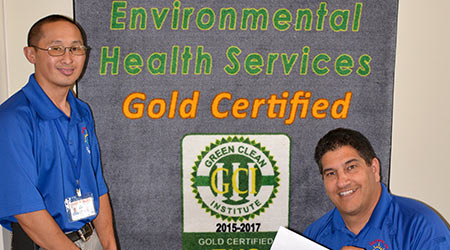 Located in Southwestern Colorado near the northern New Mexico state line, the Southern Ute Indian Tribe resides on 1,064 square miles and boasts a 600,000 sq. ft campus. The campus is comprised of schools, medical clinics, recreation centers, and administrative buildings, with more than 7,500 residents.

Managing cleaning services for this vast facility is an enormous undertaking. However, Jess Baidwan, the custodial services supervisor for the Southern Ute Indian Tribe, has gone one step further with the operational duties by fully embracing next-generation green cleaning strategies.

Thanks to Baidwan's efforts, in 2015, the administrative building was recognized as Green Clean Institute's (GCI) first gold-certified building on an Indian reservation, and he continues to pioneer a 360-degree approach to green cleaning. By the end of 2017, four more buildings on the facility will be receiving this designation.

A core component of this strategy is the use of eco-friendly odor control solutions from Fresh Wave IAQ. As an avid user of the Fresh Wave M130 Vapor Phase Units and Gel products for nearly four years, Baidwan believes that a truly clean facility is completely odor free, and more importantly, indoor air quality is free of harsh chemicals -- safe for all residents.

"My mission and vision is to ensure that every building on our campus is cleaner, safer and healthier," said Baidwan. "Fresh Wave IAQ plays a major role in this strategy for both ongoing odor needs and some of the more difficult challenges that may arise."

For example, a Bunsen burner was left on overnight in the dental lab, which resulted in a small fire and heavy smoke odor. Baidwan and his team used the Fresh Wave IAQ M130, which made the lab completely odor free within just a few hours. There was another instance where an electrical fire broke as a result of a wall heater malfunction. Once the facility was cleaned up, Baidwan and his team ran the Fresh Wave IAQ M130 for two days – in conjunction with using the continuous release Gel products – and they did not receive even one odor complaint after the treatment was completed.

"The Fresh Wave IAQ products are like little soldiers that fight odors for us around the clock," added Baidwan. "I am very pleased with the outcomes of our odor control efforts, and I would highly recommend these solutions."

In the past the Southern Ute Indian Tribe might handle these types of odor challenges with ozone machines, which Baidwan believes are dangerous to building occupants. The EPA has even stated that the use of ozone can have serious harmful effects on people anywhere in the area, including chest pain, coughing, shortness of breath, and throat irritation. Ozone can also worsened chronic respiratory diseases, such as asthma, and increase the risk of developing bronchitis or even pneumonia.

This all falls in line with Baidwan cleaning mantra – a "healthy building is clean, but not all visibly clean buildings are healthy." Thankfully, Fresh Wave IAQ is helping him achieve this vision from a safe odor control perspective.