CASE STUDY: San Diego State University Achieve Soap Usage And Cost Savings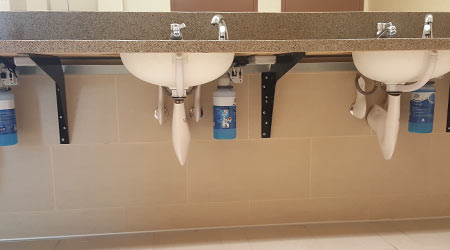 Founded in 1897, San Diego State University (SDSU) has grown to become a leading public research university. With more than 35,000 students, including approximately 15 percent who live on campus, the university is dedicated to promoting hand hygiene across its residence halls to improve student health and reduce class absenteeism.

"College campuses are high-risk places for spreading infections due to busy classrooms and common areas," said Benita D. Mann, assistant director, SDSU Housing Facilities Services. "Reminding students that proper handwashing with soap and water is one of the most important steps they can take to avoid getting sick and spreading germs to others is something we actively promote,"

SDSU was using a commercial foaming hand cleanser and counter-mounted soap dispensers, but wanted a more effective and economical product for its 600 bathrooms to improve student health.

"We were spending so much money on soap because the dispensers were dispensing liquid soap," said Mann. "People were using more soap because it wasn't foaming and ended up going through 900 bottles of soap from July to October."

Solution
In 2016, SDSU replaced its hand wash products with Deb Group's Refresh Azure FOAM soap and its CTF Ultra counter-mounted dispensers. The new products were placed in all of the resident and staff public restrooms in its four residence halls. Offering a product that students and staff like to use, with a thick foam and pleasant fragrance, increased its effectiveness in infection prevention. Each hygienically sealed bottles feature a new pump and delivery tube to keep soap fresh and eliminate risks of cross-contamination.

"We tried the Deb foam soap and dispenser in a resident hall for a couple of months and it did exactly what we needed it to do," said Mann. "The students and staff liked it a lot better than our previous foam soap and dispensers, so we decided to replace all of the old dispensers with the Deb CTF Ultra system."

Refresh Azure FOAM soap also contains glycerin, a skin moisturizer to help improve skin hydration and prevent drying, leaving the skin feeling smooth and firm after use.

"We also like the new system over the former bulk fill dispensers because it saves on maintenance. Our custodial staff can load a new bottle in seconds and the built-in indicators notify them when refills or batteries need replacement," said Mann.

Results
SDSU's previous dispenser was dispensing two shots at a time, resulting in an increase usage and cost. Because the Deb CTF Ultra dispenser operates properly and only the right amount of soap in one shot, SDSU was able to realize a usage and cost savings.

Other product benefits include:

• Refresh Azure FOAM can save up to 45 percent on water consumption compared to lotion and liquid soap use.

• Refresh Azure FOAM provides over 30 percent more hand washes compared to standard lotion soap.

"Our staff and students love the new system and we are looking forward to the many ways it will help everyone stay healthy during cold and flu season as well the stressful mid-term and finals season," added Mann.
Disclaimer: Please note that Facebook comments are posted through Facebook and cannot be approved, edited or declined by CleanLink.com. The opinions expressed in Facebook comments do not necessarily reflect those of CleanLink.com or its staff. To find out more about Facebook commenting please read the Conversation Guidelines.