CASE STUDY: Ochsner Medical Center Launches Infection-Fighting Robots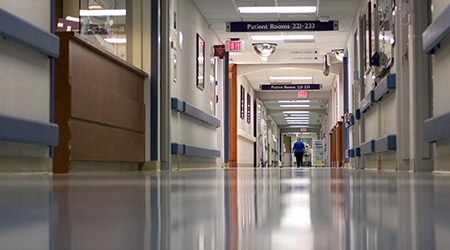 Ochsner Medical Center – Jefferson Highway is setting a new standard for patient care by deploying Xenex LightStrike Germ-Zapping Robots to improve patient safety and reduce the risk of healthcare-associated infections (HAI).

Xenex's LightStrike Robots can destroy deadly pathogens and multi-drug resistant organisms that can cause HAI. LightStrike Robots help hospitals reduce their infection rates by killing microscopic germs and superbugs through use of pulsed xenon, an environmentally-friendly noble gas, to create Full Spectrum™, high-intensity ultraviolet (UV) light. The UV light can quickly destroy infectious germs – including Clostridium difficile (C.diff), carbapenem-resistant Enterobacteriaceae (CRE), norovirus, methicillin-resistant Staphylococcus aureus (MRSA), influenza and the Ebola virus – in less than five minutes. The devices are used in addition to the routine cleaning procedures that currently take place as an extra level of protection against infection.

"Patient safety has always been our top priority. We are continuously evaluating opportunities to improve our efforts and implement best practices," said Dr. Sandy Kemmerly, System Medical Director for Hospital Quality, Ochsner Health System, and Infectious Disease Specialist at Ochsner Medical Center– Jefferson Highway. "Using LightStrike Robots, in addition to our existing room disinfection process, improves our ability to destroy dangerous pathogens and reduce the risk of infections to create a safer environment for our patients, employees and the communities we serve. This is one part of our comprehensive strategy for preventing HAI and enhancing our culture of safety at our hospitals."

Hospitals using Xenex devices have published outcome studies in peer-reviewed journals showing 50-100 percent decreases in C.diff, MRSA and Surgical Site Infection rates after the robots were used for room disinfection.

"As a lifelong resident of New Orleans, I am honored that Ochsner Medical Center plans to deploy the world's largest fleet of Xenex Robots. Our mission of reducing the pain and suffering caused by hospital acquired infections is not merely words on our website, but a philosophy that is engrained in our culture," said Joseph Authement, Senior Vice President of Global Sales at Xenex.

Ochsner has deployed 10 robots at its Jefferson Highway campus that are currently being used to enhance the room disinfection process in six high-acuity units of the hospital, with plans to add 8-10 more robots and expand to other units during phase two of the program, which is expected to begin later this year.