CASE STUDY: New Yale Colleges Adopt Green Cleaning Methods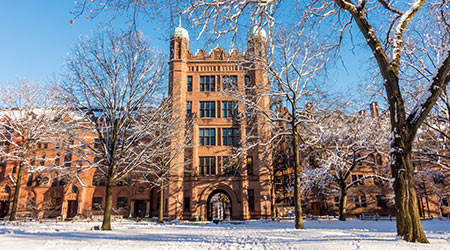 Yale University's Benjamin Franklin and Pauli Murray colleges have joined other campus locations and are now using green cleaning solutions to maintain campus buildings, according to an article on the Yale Daily News website.

Cleaning crews use machines supplied by Orbio Technologies that use electrolysis to convert water and salt into diluted sodium hydroxide and hypochlorous acid — which can be used as a general multisurface cleaner and disinfectant, respectively. Murray and Benjamin Franklin are the first residential colleges to buy machines for on-site generation of those cleaning solutions.

In the article, Mark McCloud, Yale's director of facilities services and grounds, said that the process to create and distribute the cleaning solutions is much less wasteful than those for other types of cleaning agents.

While other cleaning products must be purchased, packaged and shipped, the new cleaning technique can happen anywhere using just salt water and electricity.

Yale has six other units on campus that serve 21 buildings in total, including Sterling Memorial Library, Beinecke Rare Book and Manuscript Library, Kline Biology Tower and the Law School.

Jacqueline Gaetano, a facilities superintendent at Sterling said the cleaning solutions are less harmful to humans than conventional cleaners. The products have little to no scent, she said while some conventional products have potential irritating fragrances.

McCloud said that in many cases, the greener solutions have been more effective than conventional products, which often leave residues that can harbor bacteria.

Read the full article here.
Disclaimer: Please note that Facebook comments are posted through Facebook and cannot be approved, edited or declined by CleanLink.com. The opinions expressed in Facebook comments do not necessarily reflect those of CleanLink.com or its staff. To find out more about Facebook commenting please read the Conversation Guidelines.