CASE STUDY: Milwaukee Bucks' Iconic MECCA-Floor Recreated With Bona Products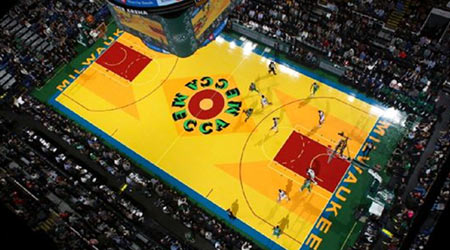 On October 26, 2017, in celebration of their 50th NBA-season, the Milwaukee Bucks returned to the Milwaukee Exposition, Convention Center and Arena (MECCA), where they played from 1968 to 1988, for a game against old-time rivals, the Boston Celtics. But just returning to the intimate MECCA, with a capacity of only 11,000, wasn't enough. To relive their glory days and elevate the nostalgia, the old MECCA-court was recreated for the special night. It's a court deemed by many as one of the most iconic courts in NBA-history.

Back in 1977, pop artist Robert Indiana was hired to design the court at the MECCA. It was an unheard-of initiative by an NBA-team. The result was unconventional and unique – an ablaze orange floor, some green, red and blue details, and two yellow M's covering most of the court. It became the only fully painted court in NBA-history. "At first, I thought we had to wear sunglasses because it was so bright," former Bucks coach Don Nelson once commented.

Even though surrounded by skepticism and controversy early on, Indiana's colorful floor design soon became synonymous with the Bucks' most successful decades in franchise history. The floor is often referred to as "the floor that made Milwaukee famous" and came to serve as a symbol for the innovative city of Milwaukee. The Bucks played on the floor until 1988 when the team moved to the BMO Harris Bradley Center.

The Milwaukee Bucks flooring contractor for 28 years, ProStar Surfaces, was tasked with recreating the iconic court. A pre-built floor from Connor Sports was sanded, finished, and painted in an empty warehouse. ProStar used Bona's premium waterborne system for the floor, including Bona SuperSport Paint and SuperSport HD finish. An incredible 75 gallons of paint and 100 gallons of finish were used. When the job was done and the paint had dried, the floor was taken apart and transported to the MECCA, or what's now the UW–Milwaukee Panther Arena, and put back together.

On the day before the game, Celtics superstar Kyrie Irving expressed concerns with the floor, stating that, "This is not the same NBA court I'm used to playing on." After the game, Connor's reliable floor, ProStar's solid work, and Bona's quality products had proved Irving's concerns to be unsubstantiated. He scored a season-high of 24 points and had seven assists in Celtics' 96-89 win.
Disclaimer: Please note that Facebook comments are posted through Facebook and cannot be approved, edited or declined by CleanLink.com. The opinions expressed in Facebook comments do not necessarily reflect those of CleanLink.com or its staff. To find out more about Facebook commenting please read the Conversation Guidelines.
---