CASE STUDY: Floor Care Program Makes This Cleaning Company Thrive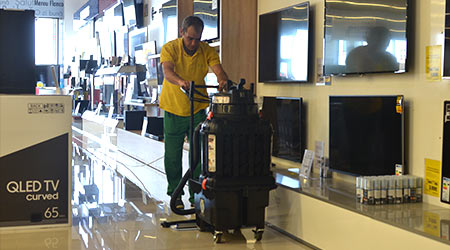 Velstand Facility Management, a professional cleaning service based in Brasov, Romania, began in 2011. The company offers many of the same services cleaning contractors around the world offer such as daily cleaning and maintenance.

However, they also provide security services, landscaping, as well as specialized pesticide services for office buildings. And not to be overlooked, the cleaning and maintenance of residential complexes, commercial, and industrial locations is provided as well.

In its seven years, the company has grown from a tiny operation to one of the largest in the region. They now have more than 120 employees and clean more than one million square feet in three different counties.

While it is not uncommon for cleaning companies to grow fast, this type of growth is exceptional. But apparently the "good word" has gotten out about Velstand Facility Management, which explains their growth. For instance, just look at some of these testimonials:
• From Altex, a Romanian Investment Company: "Velstand Facility Management provides top rate quality work and performance."
• The National Bank of Romania: "A well-respected [cleaning] contractor providing us with optimal service."
• Philip Morris: "Great value for the money. They meet our needs and are the best in the market."
• Penetrom, a construction-related company: "Can be characterized by one single word: professionalism."
• PUK, construction and consulting company: "Velstand provides quality service, and offers quick and efficient communication."
• Automobile Bavaria Group BMW: "We've chosen to work with Velstand Facility Management because of their high quality of service and efficiency."
• INTER CARS Romania: "Velstand has proven professionalism and efficiency."
• INTERSPORT: "Velstand Group is an irreplaceable company."

So, what makes this cleaning company so "irreplaceable?" Do they have a secret to their exceptional growth they can share with other cleaning contractors around the globe?

According to a company spokesperson, they attribute much of their growth to the following two things:
• Their partnership with their distributor, Tenrom, one of the leading janitorial distributorships in Romania.
• The Kaivac OmniFlex Crossover Cleaning System.

"Working with Velstand means innovation, says Marius Hotima from Tenrom. "They want high performance cleaning tools that deliver results for [their] clients. This in turn elevates their own brand's reputation and they view the OmniFlex as one of those tools."

For those who do not know, the Kaivac OmniFlex Crossover Cleaning System is a family of tools and cleaning equipment designed to clean floors and surfaces quickly, effectively, and at a cost that is far less than comparable traditional equipment.

A perfect example is the OmniFlex AutoVac. The AutoVac is an automatic scrubber alternative. It is a push behind system that applies a metered amount of cleaning solution to floors, agitates them with a microfiber pad behind the machine to loosen and remove soil, which are then vacuumed-up. The floor is left dry in seconds.

Independent tests at the University of Massachusetts TURI Surface Solutions Laboratory, found that the AUTOVAC matched – if not exceeded – the cleaning performance of a comparable automatic scrubber.

So, we know it performs. But here's something else we should know: the AUTOVAC costs from 60 percent to as much as 80 percent less than a comparable automatic scrubber.

"Velstand Facility Management is one of the most impressive contract cleaning companies I have ever known," says Marc Ferguson, Kaivac's International Business Development Manager. "Along with Tenrom, Kaivac is proud to be a part of their success.