CASE STUDY: CleanSweep Group Rolls Out UV-C Disinfection Service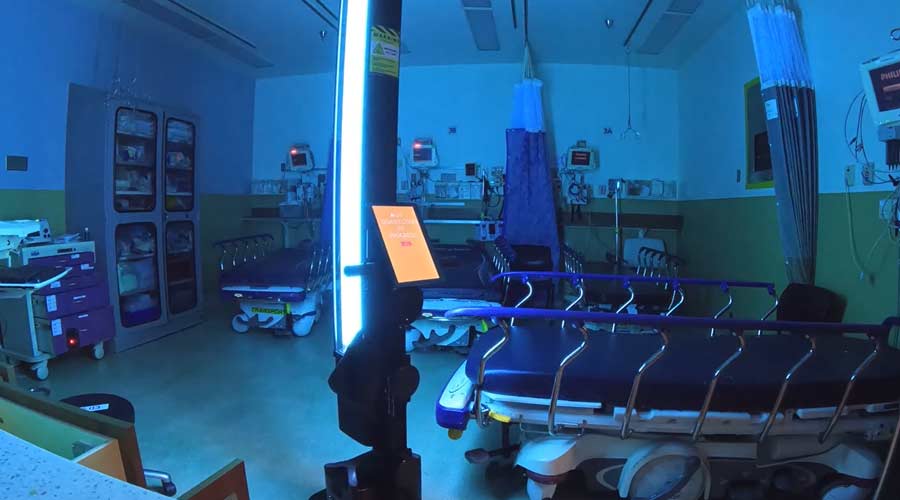 Contributed by OhmniLabs
In 2020, as the COVID-19 pandemic swept the globe, Leo Williams, CEO of Clean Sweep Group, Inc. (CSGI), was in high demand to help hospitals, businesses and residences through a very difficult and uncertain time. CSGI specializes in UV-C disinfection, an effective method of stopping the spread of disease in areas with high-contact surfaces. A 2018 study found that UV-C disinfection reduced healthcare-associated infections while saving money for hospitals without disrupting services. The spread of COVID-19 only accelerated its adoption, and UV-C light has been proven by the FDA to quickly eliminate 99.999 percent of all bacteria, germs and viruses including COVID-19.
While CSGI had established a process for disinfecting hospitals, there were still limitations as to what he could do. Emergency waiting rooms, for example, or any high-traffic area that is open 24/7, have never been cleaned this way before because the UVC light is not safe for humans.
However, in 2021, Leo was presented with an opportunity that would solve his difficulties: OhmniLabs, a Silicon Valley robotics firm, offered for him to pilot their new OhmniClean UV-C Disinfection Robot. Capable of disinfecting a 3,000-square-foot space in less than 15 minutes, OhmniClean is one of the lightest and most efficient autonomous UV cleaning robots on the market. OhmniClean is also battery-powered, making it much easier to use than options which need to be plugged in. Using this equipment, Williams cleaned a hospital ER waiting room in 7 minutes using two OhmniClean robots.
Cleaning with the UV wands required a lot of manual labor, and it exposed workers to places that were difficult to access, that were quarantined, or that contained harmful chemicals. The UV disinfection robots on the market were large, clunky, and difficult to operate.
"Just bad tech overall" is how Leo described them. By comparison, OhmniClean only weighs 59 pounds, and is wireless and autonomous. The "emitters" that Williams previously used to kill viruses and bacteria weighed about 300 pounds each and his staff had to manually position and push them around a room as well as plug them into a nearby electrical outlet.
Leo works with dozens of hospitals in California and Florida, and has expanded his business to include restaurants, schools, retail stores, apartments, cruise ships and office buildings. In fact, his team was recently able to disinfect a 20,000-square-foot sports training facility in 2.5 hours with two robots and one person. Previously, that same job would have taken three hours with two people and three machines — and the end result was not as clean or thorough as what OhmniClean is capable of. It reaches areas that were not even possible before because the technology was too clunky.
"OhmniClean is the perfect addition to our disinfection protocols. It's improved our workflow and sped up our overall process," says Leo. "My staff loves OhmniClean's simplified and intuitive process. We couldn't be more satisfied and excited for the opportunities ahead."