CASE STUDY: Carpet Care Strategy Keeps Airport Looking Good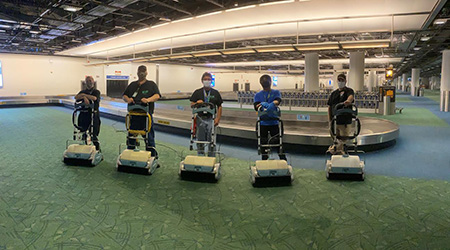 Contributed by Whittaker
Portland International Airport (PDX) has a unique history when it comes to carpet. Its geometric teal carpet with pops of purple and red gained a cult following over the years. Although the iconic flooring was replaced with a modernized design in 2015, the quality of care that goes into maintaining the carpet hasn't changed. Since 1996, Relay Resources, which aims to cultivate meaningful work for people with disabilities or other barriers, has been managing carpet care at PDX.
"At Relay Resources, we are committed to making a difference for our customers, employees and the community. We engage with willing and able workers who have faced barriers, and provide training, employment and housing to help them lead independent lives," said Tony Diep, supervisor, Relay Resources.
More than 19 million people flew into or out of PDX in 2019. Near-constant foot traffic and wheeled luggage and trolleys can take a toll on carpet over time. Thus, Relay requires reliable carpet care equipment to perform daily maintenance and remove spills and spots.
Solution
When the replacement for the teal carpet was installed in 2015, the carpet replacement manufacturer recommended the airport implement interim maintenance systems from Whittaker, a leader in low-moisture carpet care. Low-moisture encapsulation uses safe and effective chemistry to crystalize carpet soils without leaving any residue. The small particles are removed through vacuuming. Relay has relied on Whittaker's solutions since the new carpet was installed.
Many of Relay's employees are hardworking and career-driven, but face physical, mental or developmental disabilities. This makes it important to have easy to use and lightweight carpet cleaning equipment.
Relay uses five of Whittaker's Smart Care TRIO machines, which are available in a variety of widths. Relay's employees use the 20-inch version TRIO and several stain removal solutions from Whittaker's CRYSTAL Chemistry line to keep the carpet looking like new.
"Customers frequently take photos of the carpet in the airport, so cleanliness is very important," added Diep. "We follow carpet manufacturer recommendations and adhere to a strict schedule to address all carpeted areas throughout PDX."
Results
With Whittaker's complete carpet care system, Relay Resources and PDX:
- Achieve superior stain removal – The chemistry combined with the TRIO machine's ability to simultaneously lift the carpet pile and agitate the solution helps Relay remove spots on a daily basis to keep the carpet clean.
- Strengthen brand reputation – A 2020 Harris Poll by Whittaker confirms that for 52 percent of U.S. adults, dirty carpet with stains, animal hair, food residue, etc. would negatively impact their perception of an airport. Thus, consistently clean carpet can lead to happier travelers and support PDX's stellar reputation. In fact, Relay credits the carpet care program as a contributor to PDX scoring the top spot in Travel + Leisure's annual "World's Best Awards" seven years in a row.
• Ensure employee satisfaction – Relay's employees like that the Whittaker machines are easy to use, allow them to clean quickly yet effectively and can be maneuvered into tight spaces. The machines are also easy to maintain. Providing employees with a simple carpet cleaning system that they enjoy using improves morale and provides workers with fulfilling careers.
"Daily spots make up a good portion of the care we provide at PDX. Whittaker's TRIO machines are instrumental in maintaining the carpet properly," said Diep. "I would recommend this system to other building service contractors interested in a new approach to carpet care."
Relying on Whittaker's products, Relay has helped PDX achieve a higher level of clean while continuing to set up its employees for success.
"Our janitorial workers are extremely proud of the work they do, and being able to provide them with the proper tools benefits us all."
Disclaimer: Please note that Facebook comments are posted through Facebook and cannot be approved, edited or declined by CleanLink.com. The opinions expressed in Facebook comments do not necessarily reflect those of CleanLink.com or its staff. To find out more about Facebook commenting please read the Conversation Guidelines.