CASE STUDY: Building One Fights Infections With Electrostatic System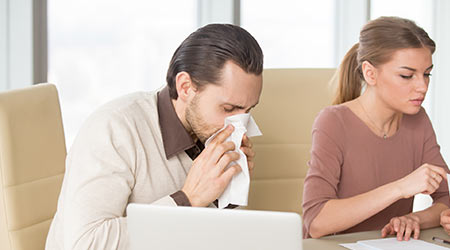 Last year, over the course of just nine months, Connecticut communities suffered eight confirmed norovirus outbreaks, which shut down businesses and opened up local investigations. The impact of these outbreaks can weigh heavily on businesses – typically resulting in productivity and financial losses due to absenteeism and building closures, and potentially tarnishing reputations due to investigations and outbreak coverage in the news. The illness-causing viruses and bacteria that cause these outbreaks can survive on surfaces from days to months, making cleaning and disinfecting surfaces an important first step in defending our clients' facilities – from healthcare and athletic facilities to distribution centers, schools, commercial real estate and more.

Productivity losses linked to absenteeism cost an average of $225.8 billion each year. With this in mind, Building One Facility Services, LLC purchased the Clorox Total 360 System to incorporate a crucial step to our cleaning protocol offerings, to ensure that environments are protected against common harmful bacteria and viruses, including difficult-to-treat infections like Methicillin Resistant Staphylococcus aureus (MRSA) and fast-spreading stomach bugs like norovirus – the culprit of many illnesses in Connecticut last year.

The Clorox Total 360 System uses a patented electrostatic delivery system to deliver Clorox disinfecting and sanitizing solutions quickly, enabling Building One to carry out cleanings with surface coverage on behalf of customers both with confidence and in a timely manner. The system works by charging and atomizing the Clorox disinfecting or sanitizing solution, delivering a powerful flow of charged particles that are attracted to surfaces with a force stronger than gravity, allowing the solution to reach and uniformly coat surfaces, including hotspots where trigger spray technology might easily miss.

"We take our commitment to providing and maintaining a clean environment for our clients seriously," said Ryan Taylor, CPA, Chief Financial Officer at Building One Facility Services, LLC. "Illness and absenteeism can have an extremely harmful impactful on businesses. We've introduced this new technology as an additional measure in our current cleaning protocol to defend our clients' environments from harmful germs and bacteria that could impact the health of their employees or guests. As the first in Connecticut to invest in this system and offer it to our regional businesses and customers, we are going the extra mile to ensure that facilities are maintained and cared for properly. We help businesses alleviate the worry of a possible outbreak sweeping across their facilities."

Building One Facility Services, LLC uses the Clorox Total 360 System to treat a wide range of frequently shared surfaces among our clients' facilities and hotspots where germs tend to lurk – from restrooms, desks to computer keyboards and beyond.

"With so many people coming in and out of our clients' facilities each day, there are countless opportunities for new bacteria to be brought indoors and for germs to spread, which unfortunately can put businesses at risk," said Taylor. "We're confident that the Clorox Total 360 System's innovative, electrostatic System will provide that assurance to our cleaning protocols across verticals to ensure that environments are healthy and clean, and are maintained as such."