BSCAI Rechristens Its Annual Convention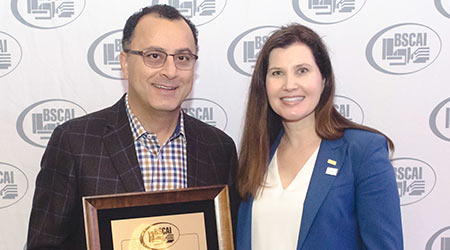 The Building Service Contractors Association International (BSCAI) Annual Convention has been renamed the Contracting Success Conference, a name change designed to underscore that organization's year-round commitment to giving building service contractors, whether owners of a small BSC company or those with larger firms, the tools and support needed to achieve their business objectives. As such, the conference — held this year at the Bellagio in Las Vegas from Sept. 13 to 15 and co-locating with ISSA/INTERCLEAN — will offer six tracks of educational sessions in the areas of finance, general management, human resources, operations, sales and marketing, and technology.

Much of the education is given by building service contractors themselves. These peer-to-peer sessions provide education from individuals who have had the experience, so they can provide best practices and tips.

BSCAI members will also benefit from the accomplished keynote speakers presenting at the event. On the docket is Sarah Robb O'Hagan, CEO of Flywheel Sports (an indoor cycling company), past global president of Gatorade and Equinox, and past marketing director for Nike. O'Hagan embraces the learning experiences offered by "epic fails," including her own back-to-back firings while in her mid-20s.

Then there's Jonathan Fader. A licensed performance psychologist and director of mental conditioning for the New York Giants, Fader also regularly serves as an expert psychologist on TV and radio, sharing advice on performance improvement and how people can achieve their full potential.

Along with the education, speakers and peer-to-peer sessions, the conference offers plenty of networking opportunities that provide a chance to meet with other industry members and pick their brains, share tips and tricks, or just connect in general. These include several networking roundtables and a Welcome Reception. New this year is the New Member Booth Party, which was created to help welcome those new to BSCAI. The party will offer refreshments and beverages along with the chance to meet some board members. However, all conference attendees, new or veteran, should be certain to stop by the Sponsor Reception for more relaxing and mingling.

Another event to look forward to is the awards breakfast at which BSCAI will honor industry excellence and accomplishments. The Clean Awards Program recognizes achievements in distinguished service, community service, safety, image, Cleaning For Health, employee work ethic and more.

Attendees will also have several opportunities to learn about new products from manufacturers at tabletop exhibits.

Pamela Mills-Senn is a freelancer based in Long Beach, California.