Antimicrobial Wipe Demand To Rise Through Decade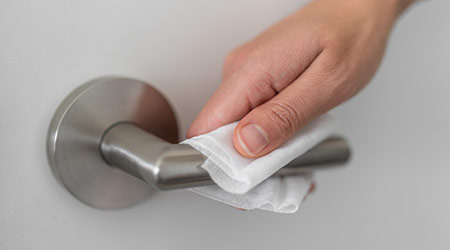 Contributed By Future Market
The global antimicrobial wipes market is expected to witness surging demand in the forthcoming years, according to research from Future Market. The study projects a compound annual growth rate of 10 percent between 2020 and 2030.
Antimicrobial wipes have gained traction as an effective way of decontaminating. With governments across the world taking initiatives to spread awareness on the importance of hygiene, the demand for different kinds of sanitizers is expected to rise.
While antimicrobial wipes are extensively used across hospitals and healthcare centers, they are also increasingly demanded in the household and commercial sectors. The study foresees the market to benefit from the rising focus on innovations among leading players.
In its recent study, Future Market Insights offers information on the prevailing trends in the global antimicrobial market. It offers insights into hidden opportunities within the market, besides providing recommendations to help the market players plan future growth strategies.
Some of the key factors highlighted in the report are:
- The global antimicrobial wipes market is expected to surpass $7 billion by the end of 2020.
- North America is expected dominate the global antimicrobial wipes market over the forecast period, followed by Europe. Despite North America's dominance, South Asia is expected to emerge as a lucrative market for antimicrobial wipes.
- South Asia is expected to emerge as a lucrative market, exhibiting growth at a higher compound annual growth rate. The rising use of antimicrobial wipes across schools, hospitals, offices, gyms and other organizations will aid the expansion of the market in the region
- The projects e-commerce penetration to be a key game changer for the market. With consumers showing a higher degree of inclination towards shopping online, an increasing number of companies are expected to spend on creating a robust online presence.
Rising Focus On Biodegradability
Most antimicrobial wipes are meant for single use. This adds to carbon footprint, aggravating already pressing issues regarding landfills. Consumers today are also driven by environmental concerns, which has made them more conscientious about components used in their products.
Antimicrobial wipes made from biodegradable materials will gain brownie points since they will serve the dual purpose of decontaminating without causing harm to nature. This is a defining trend, compelling manufacturers to expand their existing product portfolio.
Who is winning?
Some of the key players operating in the antimicrobial wipes market are Crosstex International, Inc., ConvaTec Inc., coVita, The Procter & Gamble Company, Nootie, Hopkins Medical Products, CleanTex, Prodene GmbH, GAMA Healthcare Ltd., Teampac Oyand, Edgewell Personal Care and others.
"An increasing number of companies are introducing sustainable antimicrobial wipes. They are also eliminating the use of harmful compounds to make their products eco-friendlier," says an analyst cited in the study. "However, owing to the recent COVID-19 outbreak, the focus on the production of alcohol-based wipes has surged since they offer better disinfection."
Disclaimer: Please note that Facebook comments are posted through Facebook and cannot be approved, edited or declined by CleanLink.com. The opinions expressed in Facebook comments do not necessarily reflect those of CleanLink.com or its staff. To find out more about Facebook commenting please read the Conversation Guidelines.