Annual Recognition Event Gives Housekeepers Reason To Cheer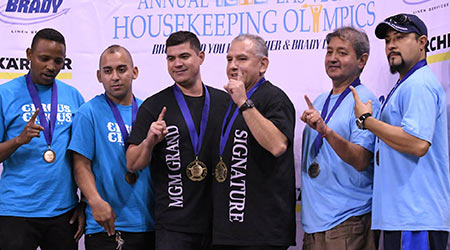 Thousands of hotel employees from 17 resorts engaged in some good, clean fun and healthy competition during the Las Vegas Housekeeping Olympics on Sept. 13.

The International Executive Housekeeping Association (IEHA) Las Vegas Chapter has been hosting the Housekeeping Olympics for 28 years. This year's competition, which always happens during Housekeeper's Week, was held at the Mandalay Bay Events Center for the eighth consecutive year.

"The competition with friends and co-workers is fun, but the evening is mostly about taking the time to stop and recognize the hardest working men and women in the hospitality industry," Chuck Bowling, president and chief operating officer of the Mandalay Bay, said in a statement. "Our GRA (guest room attendants) and EVS (environmental services) teams are the backbone of our business, and this event is just one small way to recognize and say thank you for all that these dedicated individuals do to keep our operations humming around the clock."

Attendees dressed as pharaohs, skaters, and Elvis Presley impersonators. They wore sequins and painted their faces and bodies with bright colors, all in an effort to support their co-workers competing in the events.


James Healey has emceed the Olympics for 14 years and is currently the hotel operations director at New York New York. He told The Nevada Independent that the level of pride and camaraderie demonstrated is indicative of the industry.

"They are the unsung heroes and forgotten heroes," Healey said. "Because without housekeepers, our industry doesn't exist."

The "Olympic" events include:

• Bed making competition — Housekeeping employees make the best-looking bed in the least amount of time (under two minutes) following all rules and guidelines.

• Toilet tissue toss — From a distance of 20 feet, cleaning staff toss 10 rolls of toilet tissue — one at a time — into a lidded 33-gallon trash can receptacle under 30 seconds.

• Vacuum race — Housekeepers must vacuum the 4-foot-by-6-foot area free of confetti and then return to the start line with the vacuum turned off and cord wrapped around cord hooks within 1.5 minutes.

• Buffer pad toss — From a distance of 20 feet, blindfolded team members toss five buffer pads (one at a time) to a partner holding a toilet plunger. The partner must catch the buffer pads while staying in the 4-foot-by-6-foot marked rectangular space in under 30 seconds.

• Spirit competition — With no more than six cheerleaders and one mascot per team, the cheerleaders are judged for uniformity (choreography), appearance/costumes/consistency, interaction/enthusiasm, and creativity of performance. The performances are limited to 90 seconds each.

"We also have an Executive Challenge where the executive housekeeper competes in an event," said Sandra Harshman, custodial superintendent for terminal operations at McCarran International Airport and IEHA Las Vegas chapter treasurer. "This changes every year and we don't tell them what the challenge is until the night of the Olympics. The competition this year was toilet paper bowling, and there was an added incentive because this event acted as the tie breaker."

In addition to those participating in the events, hundreds of fellow staff members from the 17 different Las Vegas properties come out to cheer on their teams. The more than 6,000 spectators were separated into cheering sections throughout the arena.

Mauricio Clark, a staff member at Circus Circus, told a reporter from Fox5 Vegas that his team spent weeks practicing and getting ready for the games.

"We motivate each other and get hyped when we see someone do well in an event," he said. "It's all about teamwork and having fun. We're a family."

Participants said there's no better way to bond and grow closer as a team.

The Mirage took home the overall first place trophy, while MGM Grand and Circus Circus took the second and third place awards, respectively. Spirit Award winners included Aria (1st), Cosmopolitan (2nd) and Mirage (3rd).

"This is a fast-paced, upbeat and fun competition," Harshman said. "It's a very exciting way to recognize workers in the cleaning industry."

The Olympics is made possible through donations, sponsorships and winning prizes from industry manufacturers and vendor partners. The Mandalay Bay also donates the use of the Event Center, in an effort to make it a success.
For photos from this event, click here.