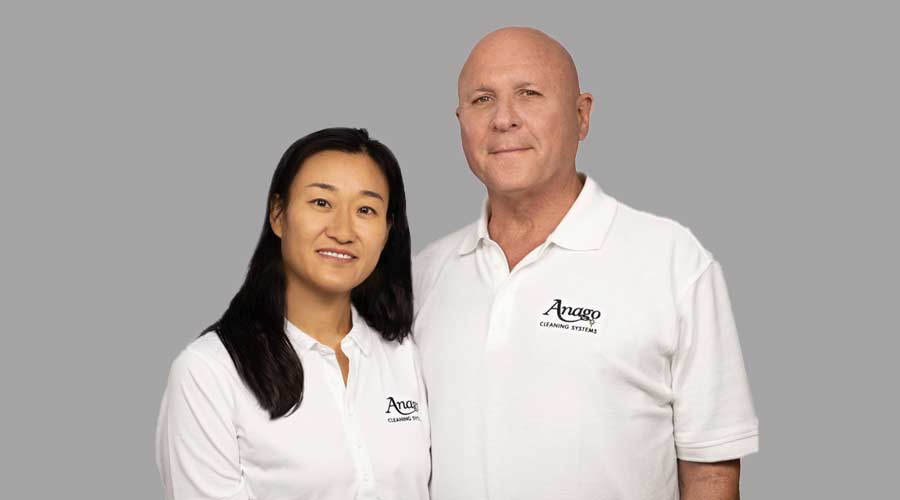 Anago Cleaning Systems announced its newest Master Franchise operators in the company's home state of Florida. The husband and wife team, Mark Patterson and Yuli Guo, will lead Anago's unit franchise operations, bringing small business ownership opportunities to 26 counties from Ocala, touted as the "Horse Capital of the world," to Tallahassee, the sunshine state's capital city.
Mark conducted his due diligence when exploring a new revenue stream, leading him to franchising. Researching industries that would not be affected soon by the surge of artificial intelligence or robotics, Mark honed in on commercial cleaning, especially with the Master Franchise model that designates a specific territory to build and grow.
According to the U.S. Census Bureau, Florida leads the country in new business formations, accounting for almost 12 percent of all new business startups from January 2021 to January 2022. Anago of North Florida's extensive reach includes target-rich cities of Ocala, Gainesville, Tallahassee, and the surrounding counties. All of these are leading the area's growth, with populations of people who can benefit significantly through small business ownership.
"The North Florida territory is primed for low cost, high opportunity business recruitment, and growth, which will feed an equal amount of growth into services that cater to those business centers and units, like commercial cleaning," said Mark. "My wife, Yuli, and I have operated businesses in Florida for many years, and we are excited to launch this new opportunity, allowing us to utilize our distinct business and operations experience while helping new entrepreneurs realize their dream of small business ownership."
Mark's wife and business partner, Yuli, is also excited to launch Anago of North Florida. Born and raised in China, Yuli immigrated to the U.S. nearly 12 years ago with a background of hard work, dedication, and grit. Yuli will lead the operations, helping new franchisees maintain the highest integrity and quality control standards synonymous with the Anago brand. Yuli is incredibly excited to offer more small business ownership opportunities to the growing Asian residents living between Marion and Leon counties.
Anago Cleaning Systems is a pioneer of the Master Franchise system. The brand has proven its award-winning value, providing owners with ongoing support, advanced technologies, and critical marketing tools to operate their regional franchises while creating small business opportunities.
"Commercial cleaning franchise ownership is consistently on the rise in territories across the nation and into Canada, but we're especially proud to continue expanding in our home state of Florida," says Adam Povlitz, Anago CEO and president. "The possibility of small business ownership is no longer a distant dream and is achievable for many people across North Florida. With home-based and mobile franchise businesses continuing to garner national interest, commercial cleaning is among the most viable and profitable ventures, proving its value even during strained economic times."