Americo Announces Promotion Within PromoMatting Division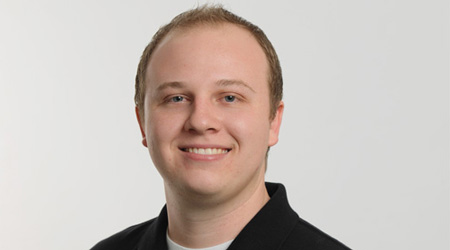 A family-owned business committed to quality for more than 40 years, Americo's PromoMatting Division has consistently proven to be a leading manufacturer of custom floor mats. The company proudly announces the promotion of Brandon Kuykendall to Production Manager for the PromoMatting division beginning on July 1, 2016.

Kuykendall began his career at PromoMatting as a graphic artist and has held various positions, including Chromojet Technician and Logo Mat Supervisor during his six year tenure with the company. "It's hard to find maturity and humility in young people today. Management quickly saw the potential in Kuykendall early in his employment. When someone like Brandon displays such desirable qualities, in addition to having technical skills, you know you have an exceptional employee. This promotion is a true testament to his excellent work ethic and determination," stated Nathan Rivera, Operations Manager Mat Division, Americo Manufacturing Company.

As the Production Manager, Kuykendall will work closely with Americo's matting supervisors and maintenance staff to plan, set targets and ensure the finished products meet the company's high quality standards. "Brandon has been with the company since he graduated from college. I am thrilled that he has progressed to this level and couldn't be happier with extending this new level of responsibility to him. He has truly earned the opportunity!" stated David Rones, President of PromoMatting Division of Americo.

When asked "What's the key to your career growth at Americo?" Kuykendall replied:
"The people. I've been lucky enough to work with individuals who challenge me in many different ways. And with each challenge, typically comes growth and opportunity (if you are willing to take on that challenge). I've always told myself that I will continue to stay at Americo, if there continues to be opportunity—after six years, I still don't have any reason to leave."

"What drives long-term success at Americo?" Kuykendall replied:
"The most impressive thing to me about Americo has been the way we manage our company with complete humility and integrity. Our employees are just as serious about creating value as upper management. I really do believe that managing the business in alignment with our guiding principles is what drives Americo's long-term success."

"What's the key to the company's sustainable growth?" Kuykendall replied:
"The culture. I really have to give upper management huge credit for developing our Guiding Principles and changing the way they view employee satisfaction as a way to increase productivity. They treat employees as important assets to achieve goals and it's that behavioral management style that has really made a difference to our production. I have incredible mentors, here at Americo. The fact that they take an interest in their employees on a personal level and take time to guide them speaks volumes and is another major reason why I want to continue to work at Americo."

The company has plans to expand their matting line and target markets. Kuykendall will play a key role in that expansion, as he implements new processing methods to minimize manufacturing costs and increase production. "A contagious positive attitude, taking ownership and being customer centric are just some key phrases that come to mind when describing Brandon. I have no doubt that he will have a positive contribution to our future endeavors." stated Joel Gallimore, Executive Vice President of Operations Americo Manufacturing Company.