American Workers Concerned About Office Cleanliness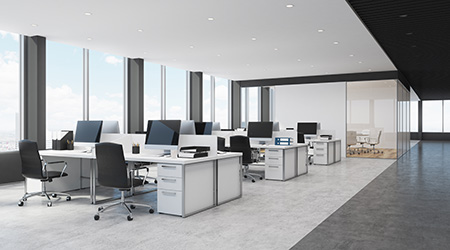 Essity has released the results of its "Return to Workplace" survey, which was conducted to develop a greater understanding of the hygiene issues that are of greatest concern to employees as they transition back to the office after more than a year of working remotely during the pandemic.
In addition to providing insights on the changes in attitudes and behaviors when it comes to personal and workplace hygiene, sanitation and cleanliness, the survey specifically provided businesses a look into what people expect at work and other public places to facilitate office-wide adherence to hygiene protocols.
While "COVID fatigue" has Americans eager to put the pandemic behind them, survey results showed that actions to increase health safety through better hygiene are here to stay. In fact, the survey revealed that 84% of Americans intend to continue the enhanced hygiene practices they adopted during the pandemic such as more frequent hand washing and use of hand sanitizer, even as more Americans become vaccinated against COVID-19. However, employees question whether their workplace will maintain cleanliness protocols — with 65% of employed Americans who went into an office prior to COVID-19 expressing concern about the cleanliness and hygiene of the space before going back to the office. Moreover, as 59% of employed Americans who worked in an office prior to COVID-19 have at least some concern about being around coworkers, they also have heightened expectations of their employers when it comes to hygiene protocols in the office, and would like to see employers and building operators provide resources such as hand sanitization stations (58%), more frequent cleaning and sanitizing (58%), hands-free restroom fixtures (48%) and higher capacity paper towel dispensers in common areas and in bathrooms (35%).
"As the world continues to open up and people resume interacting and living life in a more regular way, the role of hygiene will certainly remain more top-of-mind in the workplace and other public spaces than it was in the past, and this prioritized mindset comes across clearly in the research," said Amy Bellcourt, vice president of communications, professional hygiene, Essity North America. "We undertook this survey to prompt employers to ask themselves, 'Are we ready?' to welcome employees back by addressing their concerns, and then provide the insights needed to fully assess back-to-work plans so that there can be time to implement changes to ensure employees are in a consistently safe and healthy environment."
The "Return to Workplace" survey was conducted online within the United States by The Harris Poll on behalf of Essity, from May 5 to 7, 2021 among 700 men and women 18 years of age and older who worked in an office setting prior to the pandemic. Key findings include the following:
- Nearly two-thirds (65%) of employed Americans who went into an office prior to COVID-19 are or were concerned about the cleanliness and hygiene of the office upon their return.
- Office workers have high expectations on office hygiene.
- Eighty-four percent of employed Americans who went into an office prior to COVID-19 are confident that their employer will enforce proper hygiene protocols in the office, if not already.
- More than half (58%) of employed Americans who went into an office prior to COVID-19 would like to see increased cleaning and sanitizing measures implemented at their office as a result of COVID-19.
- The overwhelming majority of American adults still believe increased cleaning and sanitizing are important in public places, such as doctors' offices and healthcare facilities (90%), restaurants (89%), hotels (88%), theaters (88%), fitness centers (87%), retail stores (86%), and entertainment facilities (stadiums or museums) (86%).
- The majority of employed Americans who went into an office prior to COVID-19 (89%) would like to see these cleaning and hygiene measures implemented at their office as a result of COVID-19:
- Hand sanitizer stations (58%)
- Increased cleaning and sanitizing (58%)
- Hands-free restroom fixtures (48%)
- Increased communication and signage on safety and cleanliness protocols (44%)
- Higher capacity paper towel dispensers in common areas and in bathrooms (35%)
Old habits can be changed as those who have already returned to the office are noticing some new coworker behaviors:
- Using hand sanitizer more often (57%)
- Washing hands more often (53%)
- Shaking hands less (51%)
- Sanitizing hands after coughing or sneezing (41%)