Advance Autonomous Scrubber/Dryer Wins Best Product Award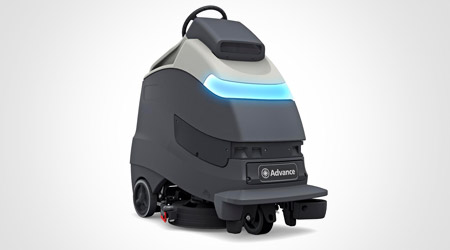 Advance proudly announces that its industry-changing Advance Liberty A50 Autonomous Scrubber/Dryer won the Best Product Award in the Machine Category at FinnClean, the Nordic region's largest cleaning industry trade show, which was held last month in Tampere, Finland.

The Advance Liberty A50, designed in partnership between Nilfisk and Carnegie Robotics, LLC, a leading provider of advanced robotics sensors and software, is specifically designed to leverage today's most advanced autonomous technologies to make commercial floor care in such settings as retail, hospitality, education, healthcare, and more, more productive, safer and easier than ever.

"It's incredibly rewarding to receive yet another cleaning industry award for the Advance Liberty A50, which with its combination of military and space-grade technologies and intelligent perception and navigation will disrupt the cleaning industry like no other product before it," said Brian Kirkendall, global director of Industrial and Autonomous Product Marketing with Nilfisk.

Kirkendall noted that in March, the Advance Liberty A50 won the Innovation Award in the Floor Cleaning Category at the Cleaning Show, an international cleaning industry conference held in London.

The Advance Liberty A50, the first product to launch under Nilfisk's pioneering Horizon Program, is the cleaning industry's only stand-on scrubber/dryer that can be operated autonomously or manually, providing cleaning professionals with unprecedented flexibility based on their cleaning needs. With its proprietary sensor suite, software and camera, the scrubber/dryer recognizes unknown obstacles as small as a tennis ball and then automatically maneuvers around them, making the Advance Liberty A50 safe to use in open or congested spaces. And, a proprietary mix of technology, including cameras, sensors and lasers, allow the Advance Liberty A50 to accurately track its cleaning path and clean close to obstacles and walls.

Nilfisk introduced the Advance Liberty A50 to the commercial cleaning industry in October of 2016 at the ISSA/INTERCLEAN North American Tradeshow and Conference in Chicago. The product will officially launch later this year.