ABM Industries To Acquire GCA Services Group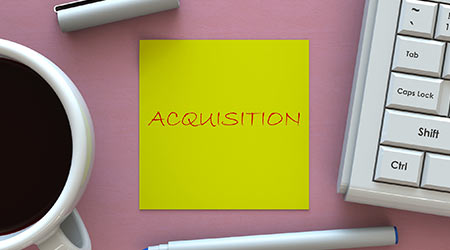 ABM ("the Company"), a provider of facility solutions, announced it has entered into a definitive agreement to acquire GCA Services Group ("GCA") from affiliates of Thomas H. Lee Partners, L.P. and Goldman Sachs Merchant Banking Division for approximately $1.25 billion in cash and stock.

GCA is a leading provider of facility services in the education and commercial industries, specializing in facilities maintenance, janitorial services, grounds management, vehicle services and outsourced workforce solutions. With over 37,000 employees in 46 states, the District of Columbia, and Puerto Rico, GCA is headquartered in Cleveland, OH.

Scott Salmirs, President and Chief Executive Officer of ABM Industries, commented, "This transformative and accretive acquisition will accelerate our 2020 Vision by creating a broader platform upon which we can grow profitably and further distinguish ABM as an industry-focused solutions provider. We look forward to gaining insights from GCA, a well-established industry leader with top talent. GCA's client-centric goals and philosophies align closely with those of ABM, and we are excited about the value this combination will bring to our clients, our employees and our shareholders."

Bob Norton, Chairman, President and Chief Executive Officer of GCA, commented, "We are excited to be joining the ABM family, which will allow us to better serve our clients with more services and greater reach. We believe our combination with a company that shares our vision for profitable growth will lead to significant long-term value for all stakeholders."

Strategic Rationale
The acquisition aligns with the core principles of ABM's 2020 Vision strategy of achieving long-term profitable growth:

• Industry-Focused Approach: The Company and GCA have complementary organizational structures by industry group and the combination will enhance ABM's presence in the Education market and Commercial industry. The combined expertise in these areas will reinforce ABM's 2020 Vision evolution from a facility solutions provider managed by service line to an industry-focused organization.

• Profitable Growth: GCA has a demonstrated track record of longstanding revenue growth and profitability driven by its industry-focused operational strategies. The acquisition is expected to increase the overall margin profile of ABM and to solidify the Company's 2020 Vision-driven, client-centric structure and strategy for long-term profitable growth.

• The ABM Way: The transaction will provide a broader platform for ABM to implement its standard operating practices, which, when combined with the best-in-class operations of GCA, will enhance the Company's capabilities for its clients, and accelerate cross-selling of its Technical Solutions and specialty engineering services.

• Valuable Synergies: The acquisition is expected to produce cost synergies in overhead and procurement, while also enabling greater efficiencies in areas such as shared services and IT.

Financial Highlights
The acquisition of GCA is expected to accelerate ABM's ability to enhance long-term shareholder value. While ABM intends to provide greater detail surrounding the long-term financial impact of the transaction after the acquisition closes, ABM expects:

• Revenue contribution of approximately $1.1 billion and adjusted EBITDA of approximately $100 million, respectively, after the first full year of ownership.

• Revenue increase of approximately $600 million within the Education industry group, with the remaining $500 million to be allocated to other key industry groups during the integration process.

• Annualized, run rate cost synergies of approximately $20 million to $30 million, which are expected to be realized by the second full year of ownership.

• Total debt, including standby letters of credit, of approximately $1.5 billion, and total debt to proforma lender-adjusted EBITDA of approximately 4.0x, as calculated under the Company's amended credit agreement, which is not expected to impact ABM's current dividend payment policy.

Transaction Details
Under the terms of the agreement, ABM will acquire GCA for $851 million in cash and $399 million in shares of ABM common stock subject to customary adjustments for working capital and net debt.

The transaction is expected to close by September 2017, subject to customary closing conditions including required regulatory approvals. ABM expects to incur approximately $70 million in one-time, transaction-, synergy-, and integration-related costs.

Following the closing of the transaction, affiliates of Thomas H. Lee Partners, L.P. and Goldman Sachs Merchant Banking Division will own, in the aggregate, approximately 14% of ABM's outstanding shares and will enter into a shareholders agreement with the Company providing for, among other things, customary standstill and voting obligations, transfer restrictions and registration rights.

Josh Bresler, Managing Director of Thomas H. Lee Partners, L.P., stated, "We would like to thank Bob Norton, the entire GCA management team and the over 37,000 GCA employees for a tremendous partnership. GCA is an incredible company with a proven track record of operating performance, safety and specialty market expertise. We are excited about the growth prospects of GCA as an important part of ABM, and look forward to benefiting from the combined company's future upside."

Chris Crampton, Managing Director of Goldman Sachs Merchant Banking Division, said, "The combined company will create a market leader in facilities services, and will enable management to offer its customers additional locations, services, expertise and resources." Mr. Crampton continued, "We look forward to supporting Scott and the ABM management team as they continue to successfully execute on their 2020 Vision."

Financing
ABM plans to fund the cash portion of the purchase price and transaction expenses via its amended revolving credit facility, in addition to a five-year amortizing term loan. JPMorgan Chase Bank, N.A. and BofA Merrill Lynch have committed to provide the financing for the transaction.

Advisors
J.P. Morgan Securities LLC is serving as exclusive financial advisor to ABM. Jones Day and Davis, Polk and Wardwell are serving as its legal advisors.

Goldman Sachs and Kirkland & Ellis LLP are serving as GCA's financial and legal advisors, respectively.

Fiscal Year Outlook
There are no changes to the Company's fiscal year outlook at this time. Upon closing, the Company anticipates changes in certain metrics, such as amortization expense and interest expense, given the size of the transaction. The Company also expects to incur certain, one-time transaction, synergy, and integration-related expenses, following the closing of the transaction.
Disclaimer: Please note that Facebook comments are posted through Facebook and cannot be approved, edited or declined by CleanLink.com. The opinions expressed in Facebook comments do not necessarily reflect those of CleanLink.com or its staff. To find out more about Facebook commenting please read the Conversation Guidelines.
---