4M Secures Significant Investment from Private Investment Firm O2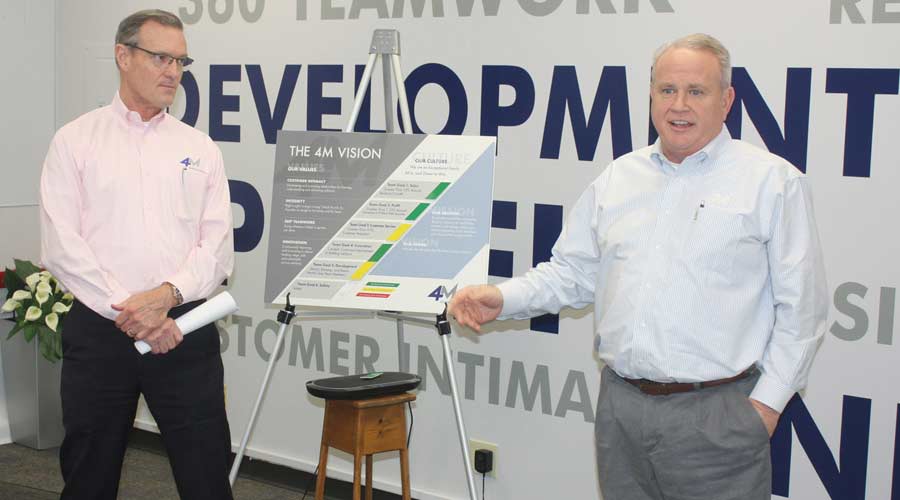 St. Louis-based commercial cleaning, janitorial, and housekeeping services company 4M Building Solutions announced that it received a significant growth investment from private investment firm O2 Investment Partners. Terms of the investment and transaction were not disclosed.
The announcement was made by Tim Murch, CBSE, 4M's chairman and CEO, and Joe Vallee, partner at O2.
"This is the next big step for 4M Building Solutions," says Murch. "O2's investment in 4M represents growth, but more than that, we see it as opening doors to tremendous new opportunities for all our team members. We are equally enthused about what it means for all our customers who will benefit from this increased investment, innovations, and strengthened services due to expanded infrastructure, expertise, resources, and capabilities within all our markets."
4M will continue to operate completely independently under its current Executive Leadership Team, all of whom have personally invested as owners and equity holders in the new entity that will continue operating under the 4M Building Solutions name.
Murch is the second-generation owner of 4M, founded in St. Louis in 1978 by his late father, Mitch Murch Sr. Propelled by a highly trained team of nearly 4,000 frontline team members, the company now cleans more than 135 million square feet daily. Operating in 15 Midwest, Southeast, and Northeast states, the company is recognized for its consistently high customer service levels, unique proprietary systems and processes, innovative solutions, industry-leading safety standards, and people-focused culture, resulting in industry-low team member turnover and outstanding leadership. 4M provides facility services for corporate owner-occupied facilities, multi-tenant office buildings, and educational, healthcare, manufacturing, industrial, logistics, and distribution facilities. Its Boston-based division, 4M Healthcare, operates housekeeping and laundry services in long-term care, memory care, and skilled nursing facilities.
This is the first anchor investment in the janitorial and housekeeping services marketplace for O2, the private investment firm headquartered in Bloomfield Hills, MI.
"O2 recognizes the tremendous growth potential for quality janitorial and housekeeping services," says Vallee. "O2 has history with the facility services industry, and Covid-19 shone a spotlight on the importance of exceptional cleaning and related janitorial activities. We are thrilled with 4M's track record of strong organic growth combined with an exceptional 26 acquisitions to date. The industry's demands and expectations are becoming increasingly high, creating a market that is ripe for consolidation. We are fortunate to have found such strong partners and leaders in 4M. We look forward to 4M's next chapter as we continue to expand upon organic growth and maintain 4M's reputation as the acquirer of choice."
This exciting partnership is intended to further support and expand 4M's already rapid growth, which included three acquisitions in 2022 (ten over the last four years) and explosive five-year growth exceeding 100% for reported 2022 annualized revenue of $125 million.
"Growth, whether organic through sales efforts, or acquisition, requires significant investment," says Murch. "While 4M is already experiencing extraordinary historical growth, those gains are conservative compared to the exciting potential ahead. We have the leadership and exceptional Team Members to take 4M to much greater levels. As I told all our Team Members, with O2's investment, we are truly ready to roll and significantly ramp up in an even bigger way for everyone's benefit."