Product Innovation Recognized At Industry Event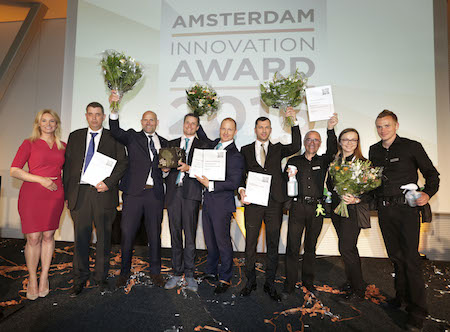 ISSA/INTERCLEAN Amsterdam started off with a bang yesterday. On opening day of the trade show, Michelle Marshall, chairperson of the Innovation Award International Jury, announced the winners of the coveted Innovation Awards. This year's program had a record-setting 110 nominees. From there, a short-list of nine products, chosen by the jury, competed in three categories.


In the category of "Equipment and Tools for cleaning, care and safety," the winner was Werner & Mertz Professional for their Quick and Easy System. The jury was impressed with the ultimate portability, simplicity and practicality of Quick & Easy. The operator wears the system on a belt and can move from room to room with five different chemicals, interchanging between them quickly and easily. There is no need for installation and the operative does not come into direct contact with the chemical, making it completely safe.


In the "Machines, accessories and components" category, Cleanfix was recognized for their RA 660 Navi. The jury voted the Cleanfix robot as the winner of this category because the company has worked closely with users over many years to develop a machine that is now in use across Europe – many units have been sold. The jury was particularly impressed with its navigation system, which uses laser, and its efficiency in mapping rooms, putting in place virtual walls, and ease of use for the operator. And it can clean to the narrowest of corners. In summary, a robotic cleaning machine ready for the real world.


For "Cleaning management and training solutions" category, Sealed Air Diversey Care's Augmented Reality, Suma Revoflow was awarded. This product also won the overall award. Augmented Reality is an exciting and far-reaching technology being brought to the cleaning sector for the first time by Diversey Care with its Suma Revoflow. The plan is to expand its use to many other areas, with mobility and the increasing use of mobile devices being the key driver. It enables upskilling of operatives through the use of IT, with knowledge transfer made significantly easier.


And lastly, for the "Visitor Choice Award," Karcher's BRC 40/22 C carpet extractor was recognized. There were nearly 6,000 votes for this award, of which Karcher earned 45 percent.

According to Marshall, the product innovation illustrated this year made it very difficult to judge.

"The most striking observation," she says, "is the number of new products now being developed that incorporate 'smart' technology in its various forms – whether it is to save on energy and water use, produce real-time data about staff and cleaning machine fleets or monitor room occupancy in order to streamline cleaning operations. Or indeed to carry out the cleaning operation autonomously, in the case of robots."

Marshall adds that the jury was also impressed with many of the manual cleaning tools and products that are being developed to provide the operative with more ergonomic, sustainable, cost-effective and practical solutions to everyday cleaning challenges.

"So many of the products we have seen have been designed with sustainability in mind, both in terms of using less water, energy and chemicals and in the way they are manufactured," she says. "Total life cycle impact, and 'Cradle to Cradle' are terms we are now commonly seeing being put into practice."

Other innovation nominees in the category of "Equipment and Tools for cleaning, care and safety" included:

Lumecel Microburst 3000 Air Care Dispenser from Rubbermaid Professional – This is a fragrancing system that never requires any batteries, as it stores energy generated by ambient light. There are numerous benefits associated with operational costs, replacing and disposing of batteries, and of course the environmental advantages.

SpillEx from Vileda Professional – Vileda has developed a super-absorbent floor cloth, originally aimed at the healthcare sector in operating theatres to tackle large amounts of blood. It also has many other applications in care homes, public areas etc, where spillages of any kind must be dealt with safely and effectively.

Additional nominees in the category of "Cleaning management and training solutions" included:

Connected Cleaning from Kärcher – With Connected Cleaning Kärcher is pulling together the many aspects of running a cleaning operation under one digital platform. For managers this is an all-encompassing management tool – it covers machines, staff, quality monitoring and is continuously evolving.

Tork EasyCube from SCA – For optimisation of cleaning schedules in the washroom Tork EasyCube works via smart dispensers linked to a cloud-based system. It enables managers to monitor traffic and usage, thereby anticipating cleaning and refill needs. This means cleaning can be carried out when and where it's needed, a much smarter way of working for the cleaning team.

The total list of innovations that have entered the Innovation Award competition is available online here.

Members of the international jury included:
Pierre Deschamps — Chief Editor Batiment Entretien – France
Dick van Zomeren — Dutch industry expert and editor Servicemanagement - Netherlands
Rob Geissler — Publisher Sanitary Maintenance – USA
Michelle Marshall — Chair Chief Editor European Cleaning Journal - United Kingdom
Ton van der Riet — Managing Director Senzora - Netherlands
Paolo Pellizzari — Editor Pulizia Industriale e Sanificazione - Italy
Reinhard Knittler — Publisher Reinigungs Markt - Germany
Cor van der Velden — Chief Expert at Skills Netherlands – Netherlands
Antonio Borreda — Director Revista Limpiezas - Spain

Proceeds from the nominations went to supporting Amref Fying Doctors - earning a 16,500 euro donation for the organization.
Disclaimer: Please note that Facebook comments are posted through Facebook and cannot be approved, edited or declined by CleanLink.com. The opinions expressed in Facebook comments do not necessarily reflect those of CleanLink.com or its staff. To find out more about Facebook commenting please read the Conversation Guidelines.